Chris Brown, Demi Lovato + More React to Oklahoma Tornado Tragedy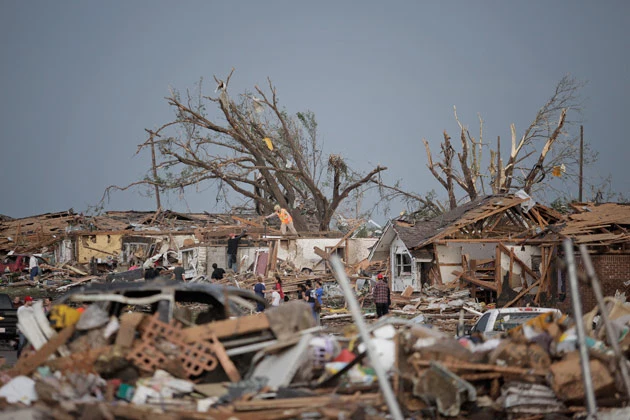 Yesterday's (May 20) tornado that ripped through the Oklahoma City suburb of Moore is a painful reminder to all just how powerful Mother Nature can be. According to ABC News, the two-mile wide twister has killed at least 24 people, an esitmate which was just lowered by the medical examiner from the original estimate of 91. Tragically, seven of those casualties are children as the tornado tore through two elementary schools yesterday afternoon.
As the rest of the nation is thinking of Oklahoma and the devastation, so too are celebs. OneRepublic's Ryan Tedder was especially shaken by the events, as he is a native of Tulsa, Okla. himself. He posted:
My heart goes out to the people in Oklahoma affected by this insane storm.So close to where I grew up, I can't believe the devastation- R

— OneRepublic (@OneRepublic) May 21, 2013
Other pop stars like Chris Brown, Demi Lovato and Nicki Minaj took to their Twitter accounts to let those affected know they were in the thoughts of the rest of country.
Sending mylove and prayers to the people of Oklahoma.#PrayForOklahoma.

— Chris Brown(@chrisbrown) May 21, 2013
My heart hurts for Oklahoma.. Praying for everyone affected by the tornados.

— demetria lovato (@ddlovato) May 21, 2013
Love to Oklahoma

— Nicki Minaj (@NICKIMINAJ) May 21, 2013
My thoughts are with Oklahoma and those lost and injured in the tornado. It's mind boggling how powerful Mother Nature can be.

— Skylar Grey (@SkylarGrey) May 21, 2013
You can help those affected by texting REDCROSS to 90999 to donate to the Oklahoma City Red Cross. Our thoughts continue to be with the town of Moore, Okla. in this trying time.

Source:
Chris Brown, Demi Lovato + More React to Oklahoma Tornado Tragedy