Full Schedule of Tonight's High School Football in Northwest Louisiana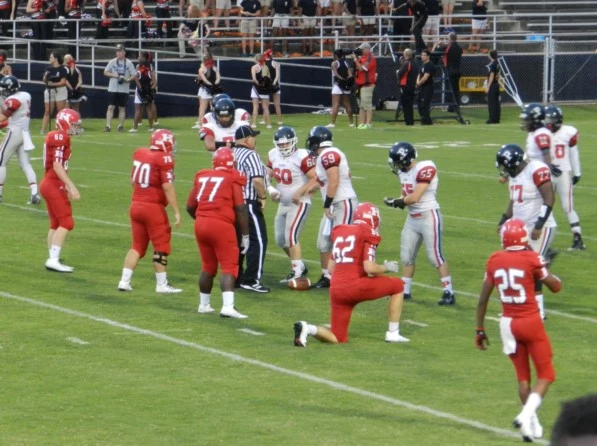 Tonight is another of those nights that high school dreams are made of!  Young players have visions of the NFL dancing in their heads; cheer squads and bands are all prepped and ready and fans are looking forward to those Friday Night Lights.
And we've got a great schedule of games on tap for tonight!  Just take a look!
| | | |
| --- | --- | --- |
| School | Date | Opponent |
| Airline | 9/8/2017 7:00:00 PM | Bastrop |
| Evangel Christian | 9/8/2017 7:00:00 PM | Allen, TX |
| Haughton | 9/8/2017 7:00:00 PM | Washington, B.T. |
| Southwood | 9/8/2017 7:00:00 PM | Huntington |
| Benton | 9/8/2017 7:00:00 PM | Alexandria |
| Bossier | 9/8/2017 7:00:00 PM | North Caddo |
| Minden | 9/8/2017 7:00:00 PM | Haynesville |
| North DeSoto | 9/8/2017 7:00:00 PM | North Webster |
| Northwood – Shrev. | 9/8/2017 7:00:00 PM | Richwood |
| Green Oaks | 9/8/2017 7:00:00 PM | Natchitoches Central |
| Loyola Prep | 9/8/2017 7:00:00 PM | West Ouachita |
| Calvary Baptist | 9/8/2017 7:00:00 PM | Union Parish |
| Lakeside | 9/8/2017 7:00:00 PM | Montgomery |
| Mansfield | 9/8/2017 7:00:00 PM | Carroll |
| Homer | 9/8/2017 7:00:00 PM | Beekman Charter |
| Plain Dealing | 9/8/2017 7:00:00 PM | Bolton |
| Ringgold | 9/8/2017 7:00:00 PM | Northwood – Lena |
| Parkway | 9/8/2017 8:00:00 PM | Pearl High School-Battle on Border |
| Byrd, C.E. | 9/9/2017 7:00:00 PM | Moss Point – Battle on Border |