Fans Tell Billy Ray Cyrus to 'Stay Strong' Following Miley Cyrus' MTV VMAs Performance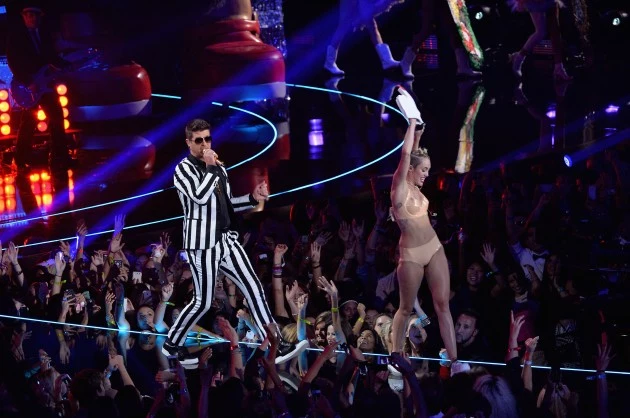 Miley Cyrus caught a lot of flak on Twitter for her performance at the 2013 MTV Video Music Awards on Sunday (Aug. 25), which saw the singer gyrating on Robin Thicke, twerking and demonstrating the wrong way to use a giant foam finger.
The uproar led to fans of her famous father, country singer Billy Ray Cyrus, showing their support on Twitter with the hashtag, #StayStrongBillyRayCyrus.
I'm sooo glad I didn't catch the VMA's last night. Main stream music, you're embarrassing yourself. #staystrongbillyraycyrus #yourdaughter

— Jason Lancaster (@GoJason) August 26, 2013
#staystrongbillyraycyrus you still have jackson pic.twitter.com/VzUhQoCubZ

— Childhood Ruined (@ChiIdhoodRuiner) August 27, 2013
hey @mileycyrus check out this book, lots of twerking in it I promise just give it a try #staystrongbillyraycyrus pic.twitter.com/saceQShCIU

— Jason (@jasonincc) August 26, 2013
#staystrongbillyraycyrus No father should ever have to see this pic.twitter.com/mb38HMHfHq

— Jack's Back (@jacknorwich) August 26, 2013
Billy Ray, meanwhile, has not addressed the subject of his daughter's provocative performance at all on Twitter.
His tweets following the VMAs have been about the tragedy in Syria and getting back into the studio to record music. Ironically, the singer also celebrated his 52nd birthday on Sunday night.
Thanking God for so many blessings tonight. Continue to pray for world peace. More love …less hate.

— Billy Ray Cyrus (@billyraycyrus) August 26, 2013
Great way to kick off the week. Back in the studio with a guitar …a good microphone …and great songs. Let's get busy. Keep it real.

— Billy Ray Cyrus (@billyraycyrus) August 26, 2013