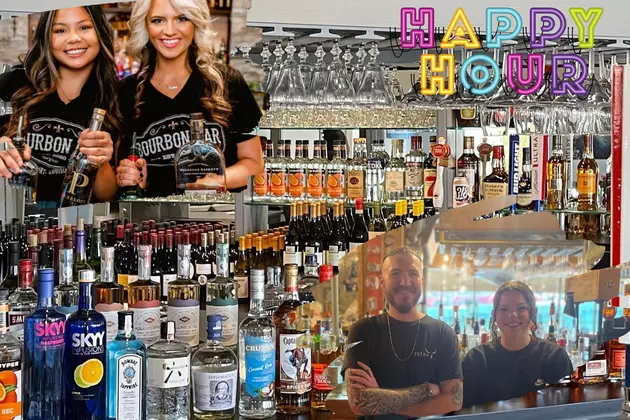 Check Out These Shreveport-Bossier Spots for Happy Hour
Bourbon Bar via Facebook, FLames via Facebook, Tejas via Facebook, CANVA
It Has Been Proven That Happy Hour Makes You Happier.
I mean the name happy is in the term right? Long day at work? Meet up with some buddies before you head home, go to your local watering hole and talk about your day, it may be cheaper than therapy in some cases. Although it has not been scientifically that happy hour makes us happier, it does work wonders for my friend's group. Happy Hour is an awesome time to reconnect with your friends and slow time down from the crazy rat race that is life.
I Am a Huge Fan of Happy Hour, I Mean Who Isn't?
My girlfriends and I have decided we want to taste our way through Shreveport-Bossier. Sometimes going out to eat and drink gets crazy expensive, so if you want to enjoy some good deals you have to visit a few different spots. Since gas is expensive we figured we could do a little research to save you some gas.
Several Places Claim That Happy Hour Happens There, However, Saving $1 on a $15 Cocktail Isn't Special To Many of Us.
Many local favorites host all kinds of fun trivia and karaoke nights that also come with drink specials. I love a happy hour menu that has both tapas and drinks on the menu.
Take a Look at Some of the Best Deals For Happy Hour in Shreveport Bossier.
Best Happy Hours in Shreveport-Bossier
More Than 20 Empty Storefronts In the Pierre Bossier Mall
15 Louisiana Summer Concerts Millennials Should Know About
Epic Glamping Experience in Texas for Stargazers in an Igloo
More From K945, The Hit Music Channel