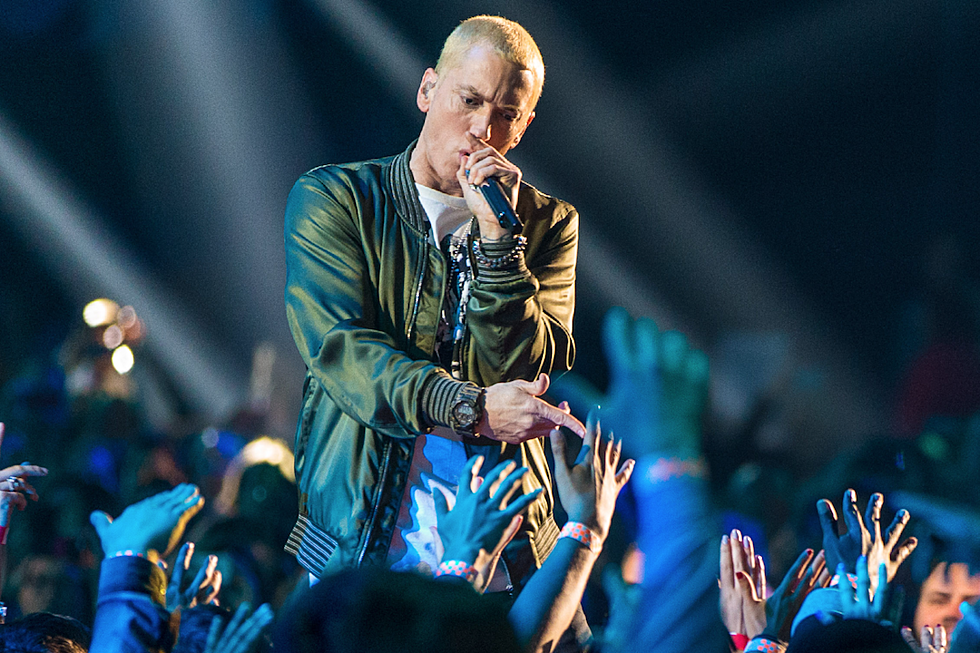 Eminem Will Reportedly Drop His Ninth Studio Album in the Fall
Christopher Polk, Getty Images
It looks like we may get a new Eminem project after all. HITS Daily Double is reporting that the Detroit rhymer is prepping his ninth studio album for a fall release via Shady/Aftermath/Interscope.
No further details were provided in the article. If it is true, this would be great news for Eminem fans. There have been some hints that the 44-year-old rapper was working on something.
Last month, 2 Chainz revealed that he recorded a song with Em that would appear on his new Shady project. "He let me hear this song and it was funny," recalls Chainz. "I heard some things in there where his vernacular was 2 Chainz-y. It was crazy."
Filmmaker Allan Hughes, who directed the Dr. Dre and Jimmy Iovine documentary, The Defiant Ones, revealed that Dr. Dre is working closely with Eminem on his next project. "People don't know this: Dre records every day. Literally, he's in there recording songs every day. He's like Picasso in that way. He's always painting," he said. "Right now he's producing, in the 11th hour, a track for Eminem's latest album. So Dre's still real active in music, you know?"
If that's not all, Eminem teamed up with South Korean music video director Joseph Kahn to produced a satirical rap battle film called Bodied. The film, which stars famous battle rappers like Loaded Lux and Hollow Da Don, premieres at the Toronto Film Festival in September 2017.
Reps for Shady Records had no comment on the report.
See Worst to Best: Every Eminem Album Ranked
More From K945, The Hit Music Channel