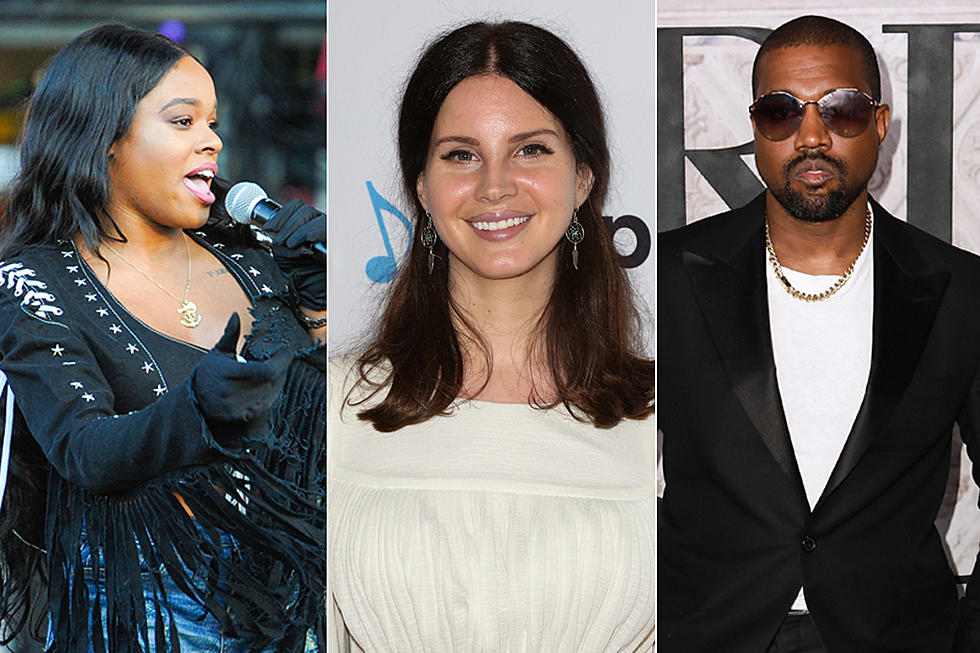 Lana Del Rey Slams Azealia Banks After Kanye West Instagram Criticism
Gonzalo Marroquin / Paul Archuleta / Gonzalo Marroquin / Paul Archuleta, Getty Images (3)
Jumping to Twitter, Lana unloaded a few retaliatory tweets directed at Banks, whose purported Twitter account previously claimed that Lana's Yeezy criticism was nothing but her pretending to be an ally.
"@shopcheapyxo u know the addy," Lana wrote in the first tweet. "Pull up anytime. Say it to my face. But if I were you- I wouldn't."
"I won't not fuck you the fuck up. Period," Lana wrote in a second tweet. In a third tweet, Lana gives Banks a bit of a compliment before continuing her diss-throwing.
"Banks. u coulda been the greatest female rapper alive but u blew it. dont take it out on the only person who had ur back," Lana said. Lana and Banks previously collaborated on 2012 remix of a track by the name of "Blue Jeans."
The Lana Del Rey comment that started Banks' criticisms came when Kanye posted an image of himself rocking his MAGA hat, which carries the campaign slogan President Donald Trump used for the 2016 presidential election. In her comment, Lana critiqued 'Ye for supporting Trump, who has been accused of sexual assault by numerous women.
"Trump becoming our president was a loss for the country, but your support of him is a loss for the culture," Lana wrote in one part of her comment. "If you think it's alright to support someone who believes it's OK to grab a woman by the pussy just because he's famous - then you need an intervention as much as he does," she wrote in another segment of her Yeezy critique.
As we mentioned before, Banks previously criticized Lana on Sept. 30. In the Lana-directed tweets, Banks critiqued the singer's Yeezy critiques, which the person operating the account evidently believes to have been hollow examples of self-aggrandizement.
"Wow okay Lana, this would be cute if you were consistent with your outrage and refused to collab with ASAP rocky who has physically assaulted women too," she wrote at the time. "To me this just looks like the typical White woman taking using a weakened target to 'pretend' to be an ally."
In another tweet continuing that idea, the account attached to the controversial rapper wrote, "Especially because you know that a white woman vs a black male will result in an immediate victory for the white woman due to societal circumstances. You wouldn't dare challenge a black woman on her opinion because you don't have that (much of a) social prejudice in place between."
Bringing things back to the present, Lana's Twitter dispute has turned pretty gruesome. In one tweet, Banks criticized Lana's purported plastic surgeries. Then, Lana came back suggesting Banks needs to take some medicine to deal with some mental illness. It just keeps going on from there.
Check out portions of the internet's newest celebrity feud for yourself below.
See Lana Del Rey's Twitter Back and Forth With Azealia Banks
More From K945, The Hit Music Channel