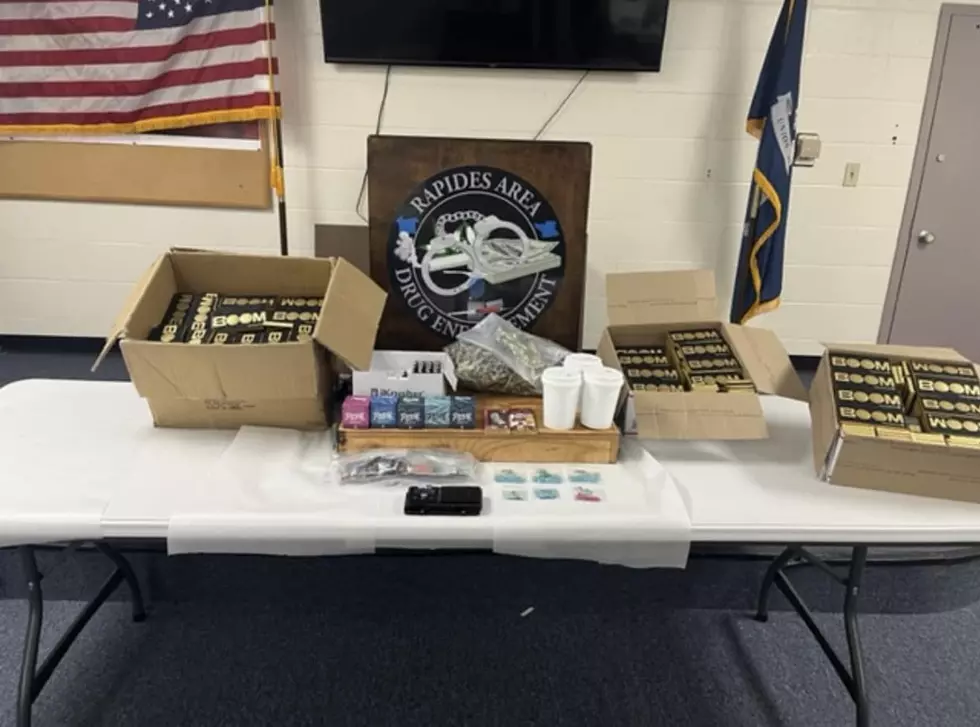 Louisiana Drug Agents Arrest Man With Load of Mushroom Chocolates
RPSO
Traffic stop leads to seizure of 70 pounds of mushroom chocolate bars.
On January 5th, 2022, K-9 Deputies assigned to the Rapides Area Drug Enforcement (RADE) Unit initiated a traffic stop on a blue Subaru vehicle on Interstate 49 for a traffic violation.
Deputies made contact with the driver, later identified as Jacob Boulet (27), and he was advised the reason for the stop. While speaking with Boulet at the driver's door, the deputy detected what he believed to be the odor of marijuana coming from inside the vehicle. Deputies asked for consent to search the vehicle due to their suspicions but Boulet denied consent. Deputies then requested Boulet and the lone passenger, later identified as Aaron Foy, to exit the vehicle while a narcotics detection K-9 performed a free air sniff around the car.
K-9 "Beny" performed the free air sniff and gave a positive alert to narcotics coming from inside the vehicle. Deputies conducted a physical search of the vehicle and located two taped U.S. Postal Service boxes and a brown cardboard box in the rear cargo of the vehicle. Upon inspection, it was discovered that the boxes contained approximately 70 pounds of psychoactive mushroom chocolate bars (487 bars), 401 ecstasy pills, 22 THC vape pens, 14 sealed packs of THC gummies, 5 ounces of THC wax, 3 ounces of marijuana, 1.2 pounds of dried mushrooms, and 2 chocolate THC infused bars.
Deputies placed Boulet and Foy under arrest and they were transported and booked into the Rapides Parish Detention Center where they were both booked for eight counts of possession of CDS I with intent to distribute. Boulet was also charged with improper lane usage and expired motor vehicle inspection sticker. Both suspects remain in jail at the time of this release. Boult is being held on a $40,200.00 bond and Foy is being held on a $40,000.00 bond.
RADE Agents say their investigation is still ongoing.
The Rapides Area Drug Enforcement (RADE) Unit is a multi-jurisdictional team comprised of the Alexandria Police Department, Ball Police Department, Boyce Police Department, Cheneyville Police Department, Forest Hill Police Department, Glenmora Police Department, Grant Parish Sheriff's Office Lecompte Police Department, McNary Police Department, Pineville Police Department, Rapides Parish Sheriff's Office, Woodworth Police Department, Grant Parish District Attorney's Office and the Rapides Parish District Attorney's Office.
The RADE Unit continues to target individuals suspected of trafficking narcotics in the Central Louisiana area.
Caddo Parish Violent Offenders for November 2022 (Mugshots)
The following inmates are those who were arrested for violent crimes in Caddo Parish during the month of November. All those pictured are considered innocent until proven guilty in a court of law.
The 7 Most Infamous Female Killers In Louisiana History
12 Kids Have Disappeared In Louisiana Since August 1st, 2022
More From K945, The Hit Music Channel