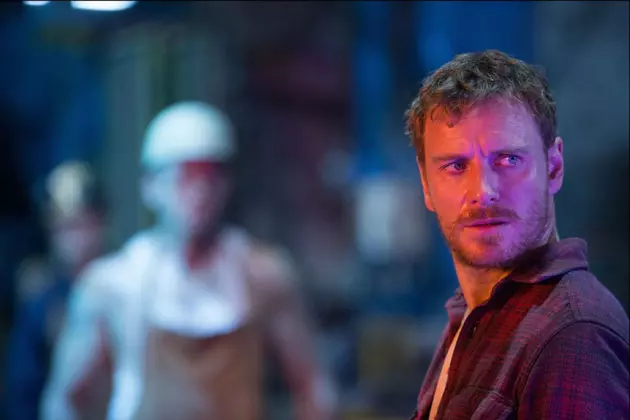 Michael Fassbender Joins David Hasselhoff in 'Kung Fury'
20th Century Fox
Little-known fact: Michael Fassbender is a funny guy. You wouldn't know it from his filmography, which is filled with serious roles in dramas and genre flicks and period projects and blockbusters — and even when the latter tend to be silly, Fassbender keeps a straight face. But if you've ever had the pleasure of seeing good ol' Fassy in person, you know that he's a bit of a clown, and he's finally found a project that will let him put those skills to use.
Variety reports that Fassbender has signed on for Kung Fury alongside David Hasselhoff and writer/director/star David Sandberg. If the title sounds familiar, that's because it's based on Sandberg's 2015 short film of the same name, which revolves around a renegade Kung Fu cop who travels back in time from the '80s to destroy the most evil villain in history: Adolf Hitler, aka Kung Fuhrer. (The Lonely Island's Jorma Taccone plays the Nazi baddie in the short.)
Hasselhoff, who also performed an original song for the short ("True Survivor") will reprise his role as Hoff 9000 — an homage to his Knight Rider days. Sandberg's Kung Fury short is set in '80s Miami and riffs on martial arts and action B-flicks of the era. It became cult hit and was an official selection for the Cannes Director Fortnight. The feature-length version will expand upon the premise of its predecessor:
The feature film will be set in 1985 in Miami, which is kept safe under the watchful eye of the police officer Kung Fury through his Thundercops police force. After the tragic death of a Thundercop causes the group to disband, a mysterious villain emerges from the shadows to aid in the Fuhrer's quest to attain the ultimate weapon.
It's unclear if Jorma Taccone will reprise his role as Hitler for Kung Fury, which is being produced by the team behind IT — last year's wildly successful adaptation of the Stephen King horror classic.
You can watch the original Kung Fury short in full below:
The Best Action Movie Posters of All Time:
More From K945, The Hit Music Channel