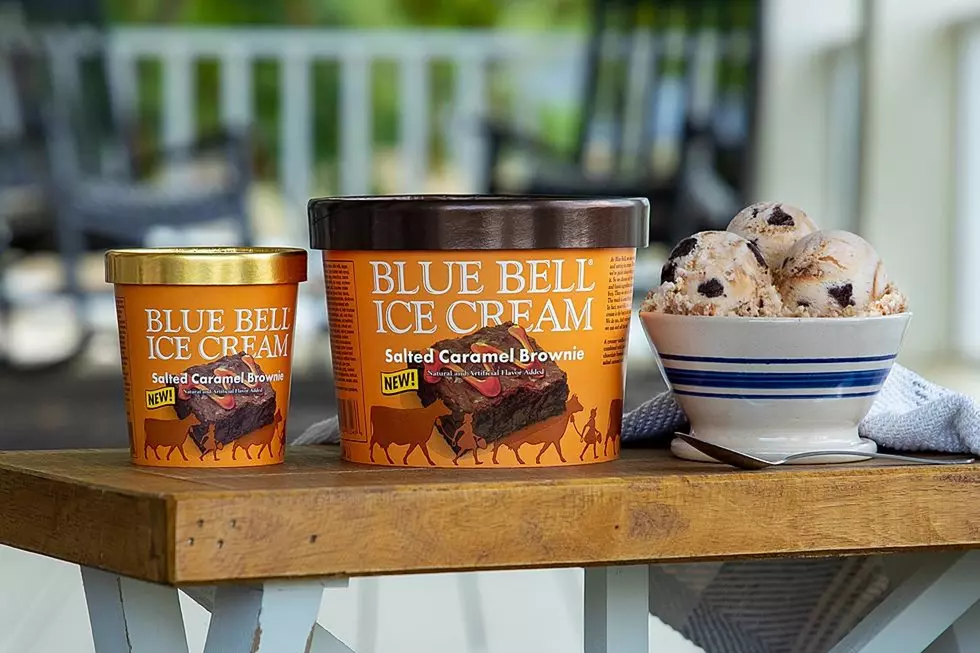 This New Blue Bell Flavor is the Best Flavor To Date
Blue Bell VIA Facebook
Today I Received a Text That Captured My Attention.
My friend Cindy sent a group text and said "I'm just going to throw this out in case anybody is going to the grocery." What followed was a picture of Blue Bell's latest flavor. Can you say "yum"?
Blue Bell Took to Their Facebook Page to Announce the New Flavor Giving Us Fall Vibes.
I don't know what it is about this flavor that has me and all my friends invested, but we are here for it. "Our NEW flavor is giving us total fall vibes! Grab your cozy gear and cuddle up with a bowl of Salted Caramel Brownie Ice Cream. The flavor is a creamy vanilla ice cream combined with luscious chocolate brownies and a salted caramel swirl. Available in the half-gallon and pint sizes, but only for a limited time." 
Yes, a Salted Caramel Brownie Ice Cream Has Now Entered the Chat.
Am I freaking out with excitement? Absolutely. A brownie is my favorite treat of all time, add caramel and ice cream and this is what dreams are made of.
Blue Bell Will Always Catch My Attention When I Walk Down the Ice Cream Aisle.
Ice cream will always be an acceptable snack in the south. Why? Our weather simply is on its own schedule and will decide when it's time for it to be chilly out. Our "fall vibe" in Shreveport-Bossier lasts until the sun comes up, so with it being 90 degrees in September, go ahead and indulge.
Get the Blue Bell Salted Caramel Brownie ASAP since it's one of those limited-time flavors. Maybe this ice cream can be the flavor that summons colder weather in the Ark-La-Tex.
Brunch Options in Shreveport
The 10 Best Places to Day Drink in Shreveport-Bossier City
Louisiana B&B Association's 5 Most Haunted Spots in The State
The Louisiana Bed & Breakfast Association has named their 5 Most Haunted Spots in the state. You can see their full post
here
.
More From K945, The Hit Music Channel