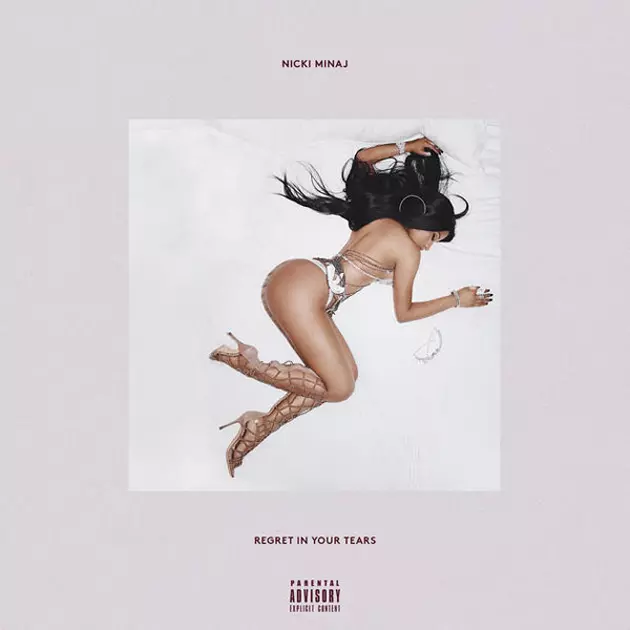 Nicki Minaj Erases Her Memories on New Song "Regret in Your Tears"
Young Money / Cash Money Records
Nicki Minaj is playing no games. While her name has been caught up in headlines regarding the Remy Ma beef as of late, the rapper flips things in her favor by dropping three new songs on Thursday night (March 9). "Regret in Your Tears" finds the rapper detailing a relationship gone bad.
The mid-tempo groove, produced by Frank Dukes, Boi-1da and Allen Ritter, seemingly surrounds her romance with Meek Mill. "'Cause you don't even know what you just lost/You don't even know what you just had/You don't even know, and that's what's bad," delivers Young Money's First Lady.
The rapper, who just tied Aretha Franklin for women with the most singles on the Billboard Hot 100, flexes on the singing tip. Nicki's got bars and vocal chops.
The track is in contrast to her Remy Ma diss "No Frauds" featuring Drake and Lil Wayne. "You can't be Pablo if your work ain't sellin'/What the fuck is this bitch inhalin'?/Tried to drop 'Another One,' you was itchin' to scrap/You exposed your ghostwriter/Now you wish it was scrapped/Heard your pussy on yuck/I guess you needed a Pap," Nicki raps, taking aim at the Bronx MC.
Along with "Regret in Your Tears" and "No Frauds," Nicki also teamed up with Lil Wayne for the key-driven "Changed It."
Hear Nicki keep it real on "Regret in Your Tears" below.
Fans React to Nicki Minaj's Remy Ma Diss "No Frauds"
More From K945, The Hit Music Channel