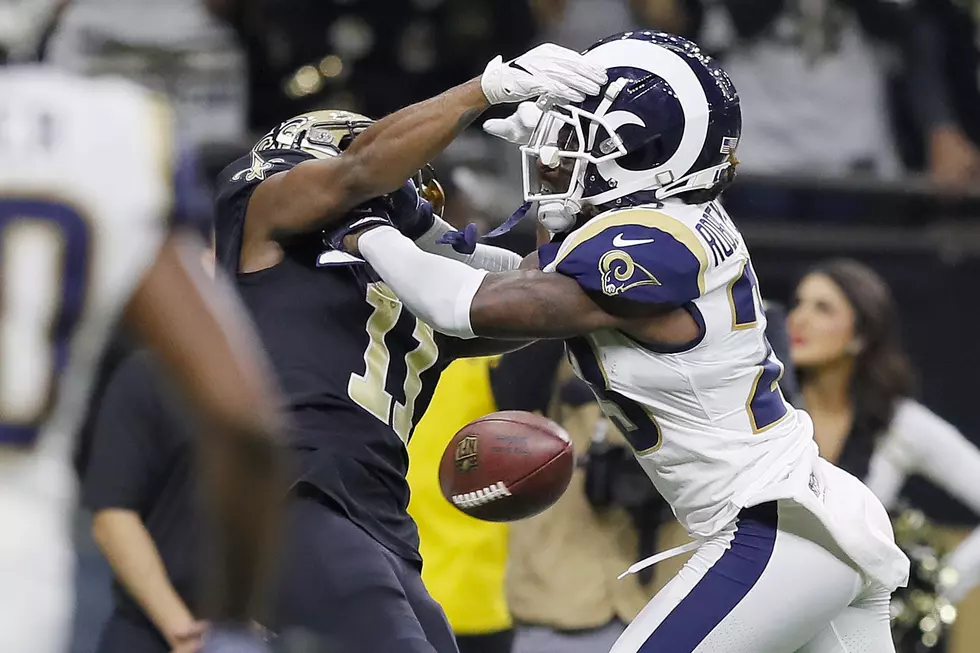 'NOLA No Call' Prompts NFL Rule Change Allowing Pass Interference, Non-Calls To Be Challenged
Photo by Kevin C. Cox, Getty Images
All offensive and defensive pass interference calls, as well as non-calls, can now be challenged after NFL coaches and owners approved a rule change during a league meeting on Tuesday.
This means that pass interference, whether flagged or not, can be challenged by coaches and subsequently reviewed by officials next season.
NFL team owners and coaches voted on a one-year trial basis to include the challenges in their officiating replay review system. Coaches will still only have two challenges per game, and in the last two minutes of a half or fourth quarter or the entire duration of overtime, the replay officials can order a review of pass interference—both offensive and defensive.
ESPN reported New Orleans Saints head coach Sean Payton as saying the league's competition committee unanimously approved the rule change 8-0 and approved 31-1 by the full body of ownership.
According to ESPN, Saints coach Sean Payton said the league's competition committee approved the new replay rules 8-0. In order for the rule change to take place, the proposal had to be approved by 24 of the 32 league owners and it was ultimately approved 31-1.
Of course, the glaring example that will forever haunt Saints fans is the controversial play in the NFC Championship game a few months ago when the Saints fell to the Rams in heartbreaking fashion after the officials didn't throw a flag on what should have been a blatant interference call.
The Saints ended up kicking a field goal and the Rams ended up winning in overtime to move on to the Super Bowl. It's a memory that will forever sting, and Saints owner Gayle Benson believes that the owners backed the vote because they were "very compassionate about it."
They understand it because they know it could have happened to them.
Sean Payton spoke with the media on Tuesday morning, elaborating at length about rules changes in the NFL.
I think we get scared of things we haven't done. Philosophically, it's a big thing to say we're going to challenge offensive pass interference and defensive pass interference. What's more scary, I would ask you guys, to go through that (no-call play) again or work through the kinks of the flag on the field. And I would argue that to go through that again would be more disturbing. Can you imagine?
He also believes that at some point the league will have an extra official in the press box to avoid similar "blunders" in the future.
He's going to buzz that buzzer when he feels a certain level of mistake has been made. How's that sound? That's going to happen. Call it what you want. That's going to happen. You're going to have to at some point.
Will this move make Saints fans happy about the no-call? Probably not, but hey—we can rest a little easier knowing that it's highly unlikely to happen again.
More From K945, The Hit Music Channel