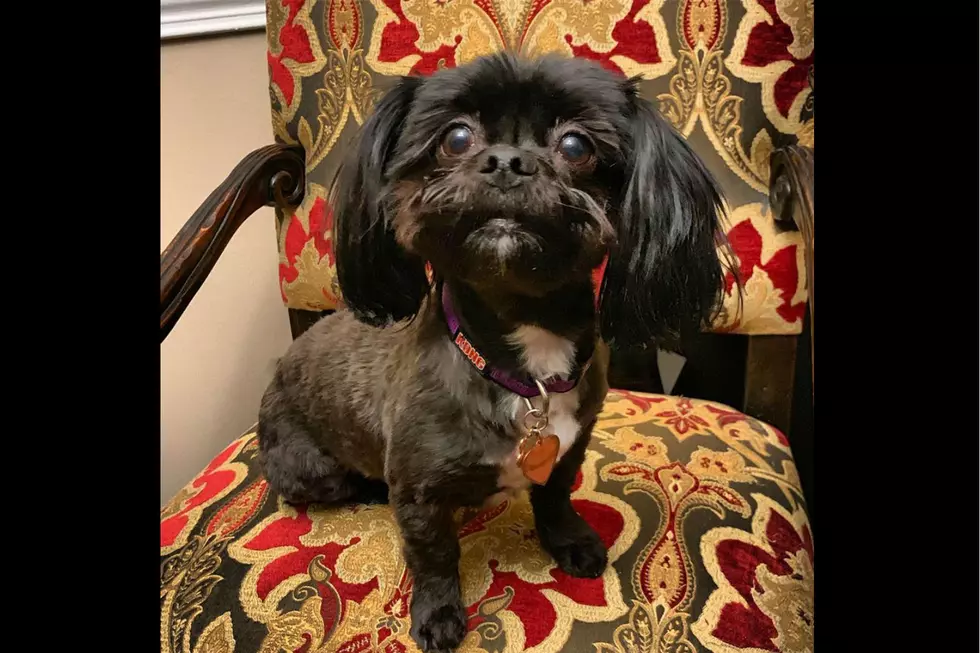 Olive Her Friends: Meet Stitches the Terrier
Krystal Montez
My dog Olive is my best friend, I couldn't imagine life without her. I wish everyone had an Olive. yes, she causes headaches and if I am gone from home longer than she sees fit, I anticipate an "accident" that reminds me she needs to be walked until she's tired.
Small dogs aren't the easiest to deal with, and Ninna's Road to Rescue knows that our littles can be difficult at times, but, we love them anyway. They're your shotgun riders, your couch hoggers, and they may be small, but their personalities are larger than life.
Check out Olive's friend Stitches. Heads up, he is heartworm positive, but this little guy has a whole lot of love to give from his little heart. Stitches is described as an Airedale Terrier mix they said he may be part Llama because he runs and looks like a Llama. He has a long neck, long body, and short legs.
Stitches has been with Ninna's since August 18, 2019. He is 3 years old, weighs in at 14 pounds and loves other dogs and cats. Everyone loves Stitches, maybe you will too. He's a crowd-pleaser, he's friendly and sociable!
The best part about stitches is that he is already neutered, microchipped, and fully vetted. Get all the info on Stitches by clicking here. While you're there you can get an adoption application.
"Stitches came to us from the Ouachita Parish Animal Shelter. We're not sure how he came to them or why, but he is a little doll. When you talk to him, he smiles... it's adorable. He loves toys and is very playful. He plays amazingly with other dogs... males and females alike. He does great in a kennel and walks well on a leash. He loves to play with toys and will fetch and bring it back for a little while. He tends to mouth but it's not to harm. Dogs do grow out of mouthing with consistent training and discipline (not in the form of hitting, but in the form of redirecting). We are working with him on this issue and he is very responsive to training. He's an amazing dog that was thrown away like trash. Whoever adopts this gem... will be adopting an amazing four-legged friend and companion. He is very loyal. He's not too little and he's not too big... he's just right. He doesn't meet a stranger and is a joy to have at the rescue. He'd do well in a home that likes the outdoors and activities... although he does fine just chilling too."
"*Heartworm POSITIVE: Don't let heartworms discourage you from adopting a heartworm positive dog! We have tons of examples of dogs adopted and then ultimately testing heartworm negative following our instructions! Stitches is on (or has completed) twice a day Doxycycline for 30 days, and he/she has received a 6 month Proheart injection. The Proheart injection releases heartworm prevention into their system continuously for 6 months as opposed to the MONTHLY pill which releases prevention only when first administered. Coupled with Doxycycline, the gentle kill (or slow-kill) method is a safer alternative to the harsh immiticide (arsenic) treatment. The Doxycycline kills bacteria, which heartworms thrive on, thus weakening the heartworms and eventually they will die off, but it could take months and possibly up to two years before (s)he will be heartworm free. The 6 month Proheart injection kills any heartworm larvae and sterilizes the adult heartworms so they no longer reproduce. While the "gentle kill" or "slow kill" method does take longer than traditional harsh veterinary treatment, we prefer this method because there is less risk, it is not as harsh on the dog and the dog does not have to be confined for up to two months during the treatment. We recommend the dog continue a course of Doxycycline every 60 days (in other words, 30 days on... 60 days off... and so on for one year), plus the 6 month Proheart injection. After one year, we recommend the dog be retested. If positive, continue the Doxycycline 30 days on... 60 days off method (plus heartworm prevention). If negative, just continue with regular heartworm prevention (just like you would do for any dog). We do require that any interested adopters understand heartworms. They must also agree to continue our method of treatment or, if they wish, they can opt for traditional veterinary treatment; however they cannot choose to do nothing and we do require an agreement/contract be signed that the adopter will continue with a plan to rid him/her of the heartworms. We highly recommend that you discuss this with your veterinarian BEFORE applying (better yet, show this write-up to your vet), as some vets will ONLY do the traditional veterinary treatment... (which is poison).
*We do adopt out of state provided the adopter is willing and able to travel to us once approved. We do not ship or transport our animals and there is no exception to this rule.
*All of our adoptable dogs are small, and they are never to be left outside alone, ever! We only rehome our dogs to adopters that plan to have them as inside dogs and part of the family! We do allow adopters with doggie doors, provided there is SECURE fencing. There is no exception to this rule!
*NO SMALL CHILDREN!! As with almost all the dogs at NR2R, young children or a very active household is not recommended. Many of our dogs come to us BECAUSE of small children, thus we do not rehome our dogs to homes with babies or young children. KEEP THIS IN MIND IF YOU HAVE VISITING GRANDCHILDREN AS WELL! Even if the children are older, it would depend on the child AND the parent or parents.
*HOUSETRAINING: We do NOT guarantee that any of our adoptable dogs are housetrained. While most should be easily trained, keep in mind that they live in a rescue where they have access to the outdoors all day and are inside at night. Even if they were surrendered to us as housetrained, it doesn't mean they will automatically be housetrained in your home. Housetraining them should be easy in the right home with time, patience, and consistency.
*We do not guarantee the age, health or temperament of any of the dogs we rehome. Many of the dogs we take in come from animal control and rarely do we have histories and even when we do, many times the histories are inaccurate.
*Only adopters with a responsible dog ownership history and excellent vet reference need apply. If you bring this pet into your heart and home, you will receive in return many years of love, companionship, and loyalty. That's our guarantee.
Other notes: This pet is available for adoption through Ninna's Road to Rescue, Benton, La. We are 501c3 non-profit organization. Our mission is to rescue small-breed dogs and a handful of cats and to re-home them into RESPONSIBLE and CARING forever homes. DOG APPLICATION LINK: http://www.roadtorescuela.org/dog-application
Time may be of the essence if you are looking to adopt a specific animal. We do not reserve animals, unless and until we have approved your application, provided the animal is still available at the time we receive your application. The first APPROVED application we receive will be considered. We are NOT a first-come, first-serve rescue!! We adopt our rescues out to the RIGHT home, not just A home. Only responsible pet owners need to apply.
Applying to adopt does NOT commit you to the adoption until you've met the pet (unless you already have and know you want to adopt the pet).
CONTACT: Our adoptable pets are updated regularly, but if you want to check the availability of a pet... OR still have questions AFTER reading this profile, message us via our Facebook page. Please indicate the name when communicating with us."
More From K945, The Hit Music Channel