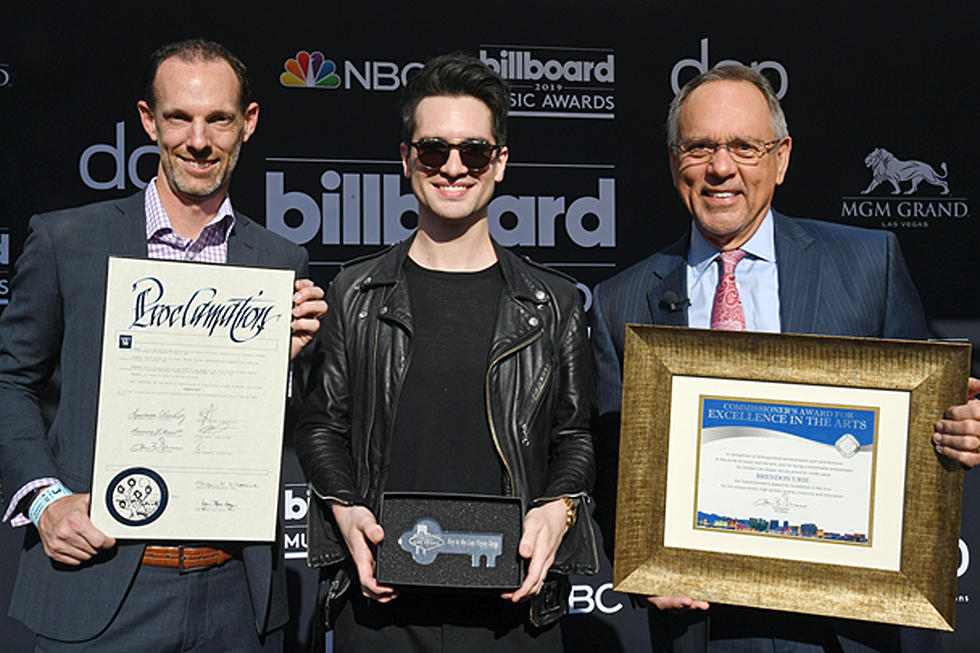 Panic! at the Disco's Brendon Urie Given Las Vegas' Key to the City
Ethan Miller, Getty Images
Congrats are in order for Panic! at the Disco frontman Brendon Urie, who was given the "Key to the City" this morning (April 30) in his hometown of Las Vegas, Nevada.
Urie was presented the honor by Las Vegas Commissioner Jim Gibson on the eve of his performance at the Billboard Music Awards Wednesday night (May 1) at 8PM ET/PT on NBC. The vocalist joins such iconic figures as Elvis Presley, Madonna and Britney Spears as entertainers who have had the honor bestowed upon them.
As a Las Vegas native, the singer has incorporated his hometown into his musical work, recording the band's second album Pretty. Odd. at the studio at the Palms, while also shooting videos and incorporating Las Vegas into album cover art over the years. He's also maintained his roots by aiding the local community. The Highest Hopes Foundation is currently partnering with State Farm and the Boys & Girls Club of Southern Nevada to break ground on the Youth Notes for Notes recording studio for local children.
Having toured plenty on the "Pray for the Wicked" tour, Urie has a relatively light tour schedule ahead of him. He's currently scheduled to play the Firefly Music Festival June 21 in Dover, Delaware and is also booked for Rock in Rio in Rio De Janeiro, Brazil on Oct. 3. Ticketing info can be found here.
The Best Emo Song of Every Years Since 1998
More From K945, The Hit Music Channel