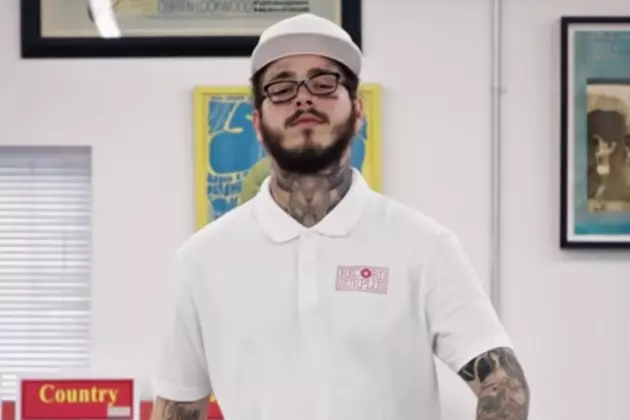 Post Malone Goes Undercover as Record Store Employee to Fundraise for Nonprofit Organization
Post Malone via Omaze
During the clip, Post can be seen sporting a "disguise" of khakis, a white collared shirt, a hat and glasses, with the rapper using the uniform to go undercover as a record store employee. He goes on to talk to various unassuming customers and alludes to his ongoing contest with Omaze. Interestingly enough, some customers are completely oblivious to who he is while others are not fooled one bit.
"What do you mean, 'you got me already?,'" one customer says, laughing after Post acts surprised she recognized him. "You can't walk around with those tattoos and be invisible!"
From asking an older customer what he thinks of rap lyrics to contemplating coming up with a new rap name with a younger customer, Post Malone definitely has fun with this prank, eventually going on to get "fired" for being a sloppy employee.
Regardless of if the undercover execution was effective or not, the initiative is tied to a good cause and a fun contest, during which one winner will receive a new Bentley convertible and be flown out to Los Angeles to take a joyride with Post, all in the spirit of raising money for Folds of Honor.
Earlier this week (Oct. 15), Chance the Rapper also tried his hand at going undercover to raise money for Chicago Public Schools. During the campaign, the Chicago native disguises himself as a Lyft driver, carting around some unsuspecting passengers and making small talk, all in hopes of encouraging folks to donate to the cause using Lyft's Round Up & Donate section when they go to pay for the ride using the app.
Take a look at Post Malone's undercover antics below.
See Photos of Chance The Rapper's Different Looks Over the Years
More From K945, The Hit Music Channel