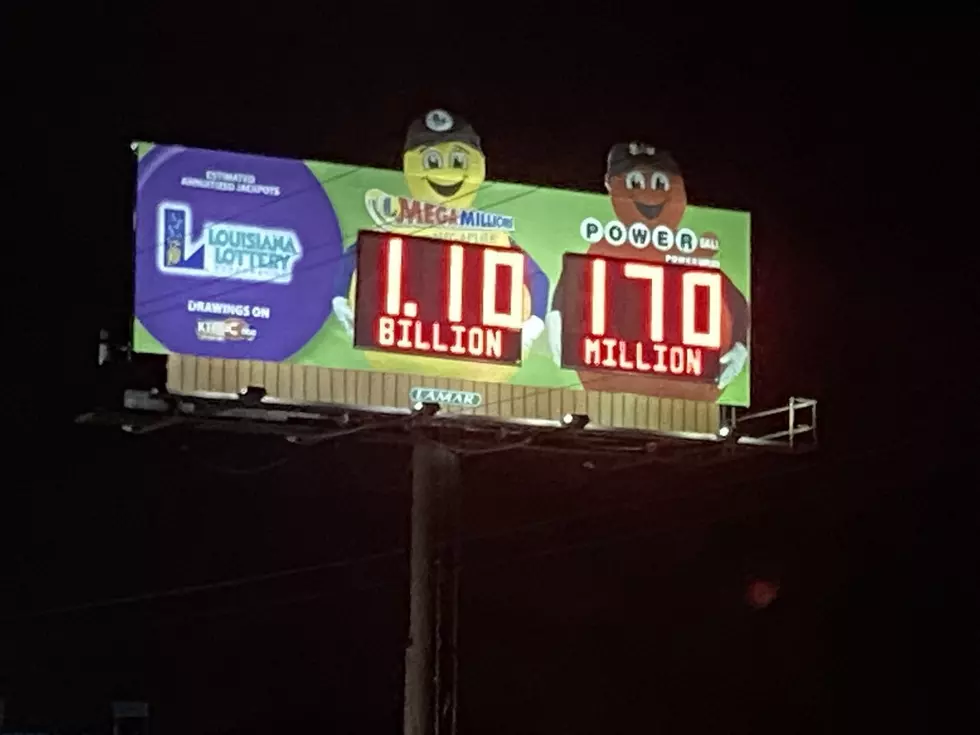 UPDATE: Mega Millions Dreaming Is on Fire in Louisiana
Erin McCarty
What are the largest lottery jackpots in history? We are talking about one of the biggest this week.
Mega Millions dreaming in Louisiana is on fire. Folks are talking about all the cool things they will buy if they hit the jackpot on Friday night.  The top prize in the Mega Millions drawing has now ballooned to a whopping $1.28 billion dollars with the lump sum cash option at $747 million.
It is now the 3rd largest lottery jackpot ever in the United States. It jumped a spot on Thursday night.  The $1.05 billion Mega Millions won in January of 2021 had been at #3.
Record sales are expected across the nation today as the jackpot continues to climb. There has been no Mega Millions winner since April.
I will continue hunting for some big ticket items, including cars, exotic vacation houses and so much more. A girl can dream.
Here's a list of the top 20 prizes from the multistate games: Powerball and Mega Millions:
1. $1.586 billion Powerball January 13, 2016. There were 3 winning tickets for this prize. These tickets were purchased in Tennessee, Florida, and California. Each had the option to take a lump sum of $327.8 million.
2. $1.537 billion Mega Millions October 2018. There was one winning ticket purchased in South Carolina. The ticket was sold at a KC Mart convenience store in the town of Simpsonville. This is the largest single-ticket jackpot in U.S. history.
3. $1.28 billion Mega Millions jackpot is up for grabs on Friday, July 29, 2022.
4. $1.05 billion Mega Millions January 2021. There was one winning ticket sold in Michigan.
5. $768.4 million, Powerball won by a single ticket in Wisconsin. Cash: $477 million.
6. $758 million, Powerball won August 24, 2018, by Mavis Wanczyk of Massachusets. She chose the lump sum payment of $480 million.
7. $731.1 Million Powerball jackpot won by a single ticket in Maryland.
8, $699 Million Powerball won October 2021 by one winning ticket in California.
9. $687.8 million, Powerball won Oct. 27, 2018. There were two winning tickets. One in Iowa and another in New York.
10. $656 million, Mega Millions, won March 30, 2012, by three tickets, sold in Maryland, Illinois and Kansas. Cash: $471 million
11. $648 million, Mega Millions, won Dec. 17, 2013, in Georgia and California. Cash: $347.6 million.
12. $632 million Powerball is won on January 5, 2022 by two tickets (California and Wisconsin).
13. $590.5 million, Powerball, won May 18, 2013, in Florida. Cash: $370.9 million.
14. $587.5 million, Powerball, won Nov. 28, 2012, by two tickets, sold in Missouri and Arizona. Cash: $384.7 million
15. $564 million, Powerball jackpot was won by one ticket in New Hampshire in the drawing on Saturday, January 6, 2018.
16. $559.7 million Powerball, A single ticket was sold at Reeds Ferry Market in Merrimack, NH. The winning ticket holder wants to remain anonymous.
17. $543 million Mega Millions. There was one winning ticket sold in California in the July 2018 drawing.
18. $536 million Mega Millions, a single ticket was sold in Indiana on July 8, 2016.
19. $533 million Mega Millions jackpot is won in March 2018 by one ticket in New Jersey.
20. $530 million Mega Millions is won on June 7, 2019 by one ticket in California.
Top 40 PPP Loans to Shreveport Area Restaurants
Here's a list of the local restaurants who got the most in Covid loans or grants.
What Are the Largest Cities in Louisiana?
The latest census numbers show some population changes. You might be surprised by where some area cities check in on this list.
More From K945, The Hit Music Channel