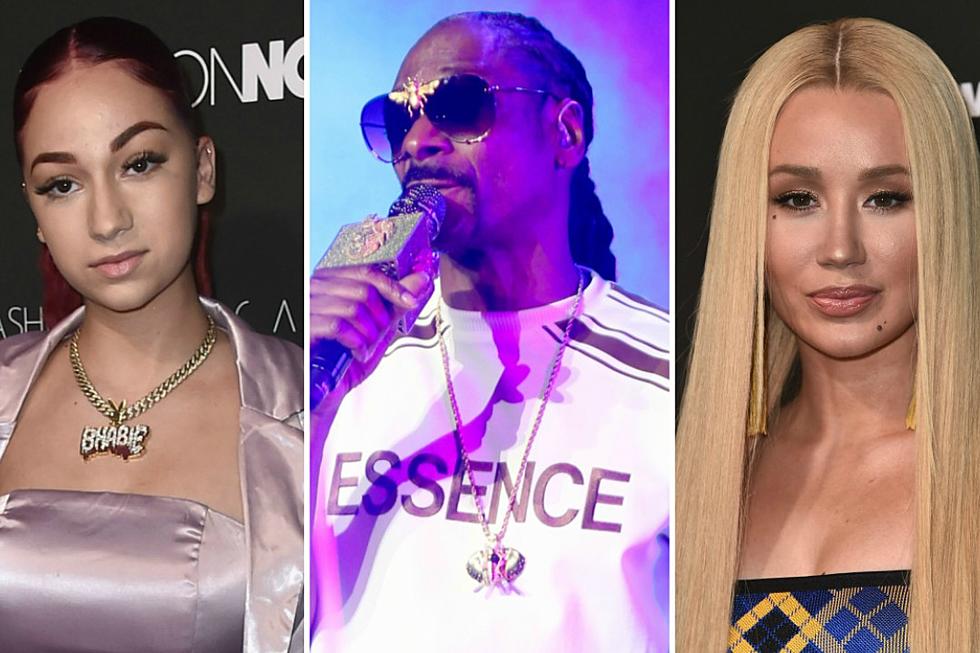 Snoop Dogg Thinks Bhad Bhabie Is Gangsta for Throwing Drink at Iggy Azalea
Bennett Raglin / Alberto E. Rodriguez , Getty Images (3)
"Bhad Bhabie gangsta," Snoop says in the video. From there, Snoop offers more commentary on the Bhad Bhabie-Iggy spat as the conversation continues. Although Iggy said Bhad Bhabie was lame as hell for instigating the incident, the From Crook to Cook author didn't think too highly of Iggy's response to Bhad Bhabie's actions. After commending Bhad Bhabie, Snoop mocks the IG story Iggy posted shortly after the drink was thrown.
"[Iggy's response to Bhad Bhabie] was White. That was White, White. I was waiting to hear a 'Bitch! or 'Why you didn't,'" Snoop says, serving up an imitation of the Australian rapper. "That sounds busterish," Snoop declared. "Bhad Bhabie gets a point."
Back in 2014, Snoop slammed Iggy by posting a picture of her, and poked fun about wearing no makeup, which prompted her to clap back. Things have been quiet between the two since then.
While Bhad Bhabie and Snoop have had some words for Iggy, the rapper is, by her own account, doing really well. Yesterday, the Survive the Summer artist claimed that she had signed a $2.7 million dollar contract while securing her own masters. Needless to say, that's a big come-up.
See what Snoop Dogg has to say about Bhad Bhabie vs. Iggy Azalea below.
Here's the Ultimate Guide to Rappers With Acronyms in Their Name
More From K945, The Hit Music Channel