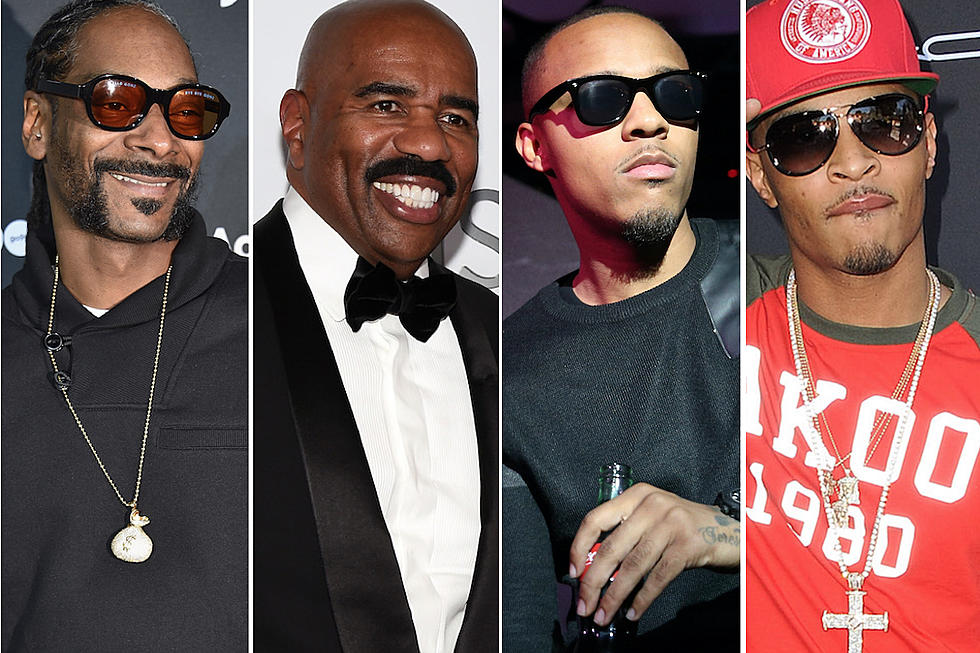 Steve Harvey Warns Snoop Dogg, Bow Wow and T.I. to Show President Trump Some Respect
Dimitrios Kambouris / Ethan Miller / Todd Williamson / Angela Weiss, Getty Images
Several rappers have come forward to defend Snoop Dogg after he released his controversial music video for "Lavender." Fellow rhyme-slingers Common, T.I. and Bow Wow have expressed their support for the Doggfather, however, one high-profiled celebrity feels that rappers are too extreme with their vitriol against President Donald Trump.
Comedian Steve Harvey, who met with President Trump last year, went on his morning radio program on Friday (March 17) to warn rappers not to be so cruel with lambasting the Commander-In-Chief. The radio personality said "truth tellers" must show respect for the office of the president.
"I'm certain that Snoop doesn't pose a real threat at all," said Harvey. "The problem with all this is that there is an office in this country called the 'president,' and you have to respect the office. You really do. Whether you want to or not. You have to respect the office. They got laws."
"Be smart with what you say," he added. "Y'all got to be smart now."
Harvey concluded, "I love Snoop. Bow Wow, always respectful and cordial with one another, me and T.I. I don't have no problem with T.I. I love the dude. I'm just saying brothers be smart. You gotta be smart man. All y'all talking got money. You got money, man. You got money and they know how to go after that money. Just be smart, handle your business. Let me tell ya man, leave the first lady out of this. Y'all going down another path with these cats now. You start messing with they wives...I'll tell y'all you going down another path."
While we understand Mr. Harvey's concerns for the rappers' well-being, some people are questioning the comedian's "have respect for the office" mumbo jumbo. We didn't hear all of that respect talk when President Obama and First Lady Michelle Obama were being called monkeys and apes while they were in office. We are just saying.
Meanwhile, Rick Ross, Jidenna, Desiigner and others are supportive of Snoop Dogg's "Lavender" video and don't think that he has to apologize to Trump.
"I thought it was bold, I thought it was audacious, I thought it made a very, very clear statement," Jidenna told Billboard. "[Snoop Dogg]'s very clear that he represents the people that have been marginalized, the people who have been cast aside, and he wants to get rid of the clowns in government."
Rozay agrees. He told the music publication, "I think it's dope any time that you can exercise your right and speak your mind. Speak your mind at all times, so whatever Snoop says, believe that."
Finally, Desiigner believes that Snoop's video was a calculated move on Snoop's part. "You've got to be easy when you make moves like that and he's a very wise dude," he said. "I really love that dude sincerely, he's a mentor to me and a lot of people in our generation."
Listen to Steve Harvey Blasts Snoop Dog and Bow Wow On Disrespecting Donald Trump
More From K945, The Hit Music Channel