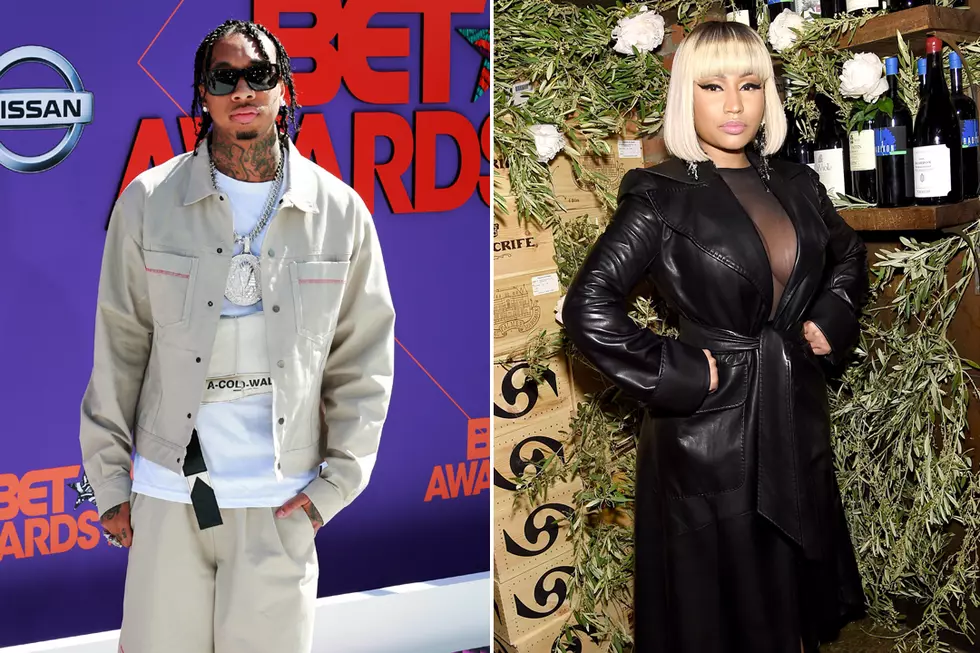 Tyga Responds to Nicki Minaj's Claims He Got Hair Plugs
Leon Bennett/Jamie McCarthy, Getty Images (2)
What a day in hip-hop. This morning (Aug. 14), Nicki Minaj made some eyebrow-raising allegations via radio and social media about her ex-boyfriend Safaree, and somehow Tyga got caught up in the mix.
After Nicki subliminally exposed the "Taste" rapper for getting hair plugs (by the same doctor as Safaree), Tyga spoke out seemingly acknowledging that her claims were true. With a screenshot uploaded to his Twitter account, Tyga admitted Ziering Medical is responsible for his new hairline. "The 🔌. Tellem Tyga sent u," he said.
It all started when the Barbz's ringleader cleared the air on the men in her life in recent years during her no-holds barred conversation with Hot 97's Funkmaster Flex. When the topic of ghostwriting was approached, Minaj shocked Flex and radio listeners alike as she spoke at length about her ex-boyfriend, rapper Safaree Samuels. During the interview she accused him of cheating on her with prostitutes and stealing her credit cards.
One of the more cringe-worthy moments came when the Queen rhymer later revealed she paid upwards of $10K for him to undergo hair transplant surgery on Twitter. "I should've never paid for that gyatDamn hairline!!!!" she tweeted. "It fell back out cuz God don't like ugly!!!! You used me but God had other plans!!!!!"
The flood of tweets continued on as she revealed Safaree had his procedure done by Tyga's surgeon. "Tyga shit ain't fall back out!!!! Y'all went to the same doctor!!! Yours fell out cuz GOD DONT LIKE UGLY!!!!!!" she wrote.
Good thing Tyga can take a joke. Take a look at his response below.
See Photos of Tyga's Different Looks Over the Years
More From K945, The Hit Music Channel