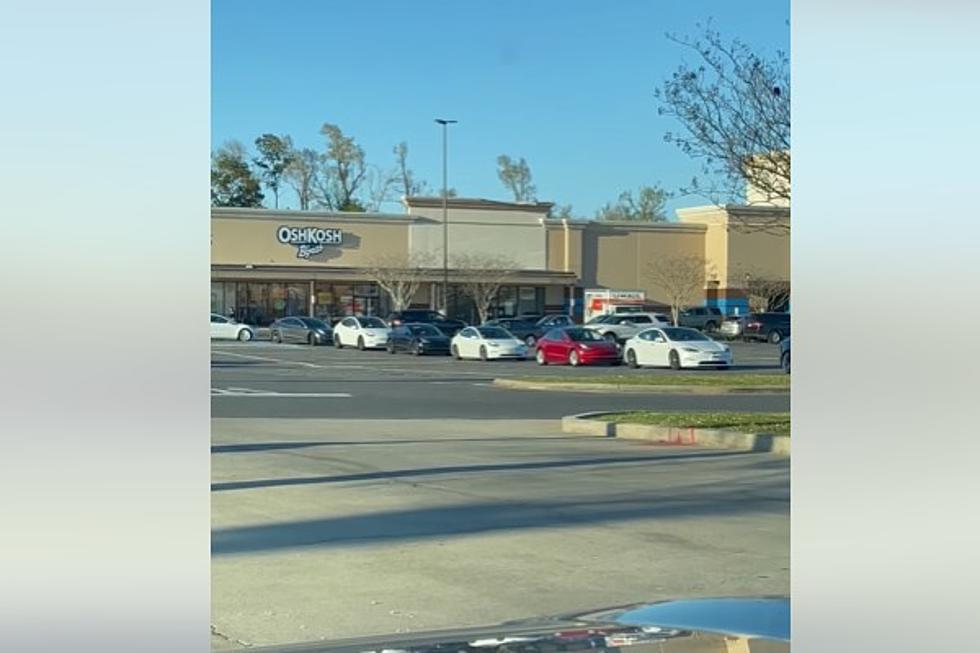 Video Shows Long Line of Louisiana Tesla Owners Waiting to Recharge
c. metz video / facebook
Candace Metz is a young women who found herself traveling through the Lake Charles area recently. And when she pulled over for (expensive) gas just off of I-10, the Texas woman may have videotaped not only the future of Louisiana, but also the USA.
Here's what she wrote on Facebook about her short video:
Yesterday I was in Louisiana along I-10. I stopped to get gas when I noticed a line of cars all waiting. Come to find out it was a line of Teslas waiting their turn to charge up. Curious, I pulled over and asked the guy how long it took to charge. He said normally 30 minutes but these stations are running slow due to demand, so it's over an hour per car. Take a look at this line. Each car is over an hour to charge. Hope those people have food and clothes - they may not make dinner.
It's bad enough that the current EV technology being forced on Americans by our green-crazy government will barely make it from Shreveport to Dallas on a single charge. Now we see proof that despite claims that EVs can charge in "only" 20 to 30 minutes, an hour or longer is the sad reality.
And those charging stations aren't free. In fact, according to a number of recent studies, the per-mile cost of plugging in an EV away from home is about the equivalent of paying $5 a gallon for a gas powered vehicle.
What about charging stations here in the Shreveport, Bossier area? Well, according to the website Plug Share, there are 30 public charging stations and only one of those is free.
Charging stations can be found at Mall St. Vincent, Whole Foods and Orr Nissan in Shreveport and in Bossier City at Airline Plaza Shopping Center, Horseshoe Casino Hotel parking garage and the Hilton Garden Inn Hotel.
For more information about EV charging stations in the Shreveport and Bossier City area, JUST CLICK HERE!
States With the Most Proved Oil Reserves
Highest Gas Taxes By State in the U.S.
Here are the top 10 states for gas taxes.
Things That May Be In Short Supply in Louisiana...and Soon
More From K945, The Hit Music Channel