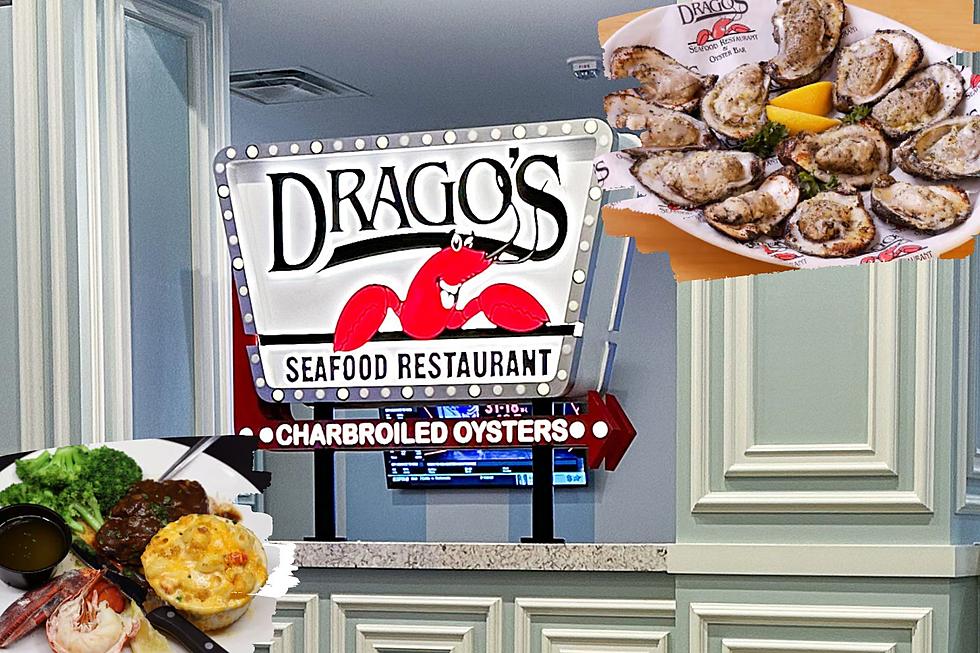 We Finally Have an Opening Date For Drago's in Bossier
Margaritaville Resort Casino Bossier City via Facebook, dragosrestaurant.com, CANVA,
The Wait Is Over for Shreveport-Bossier.
Back in September, we found out that Drago's Seafood was coming to town.
Now we can get a taste of New Orleans in one of our favorite casinos. Margaritaville in Bossier City is opening up their newest restaurant Drago's Seafood on Tuesday, May 9th.
Have You Ever Dined at Drago's in New Orleans?
If you have had Drago's you have tried their specialty, charbroiled oysters. Now the good news is you don't have to drive all the way to New Orleans, just down the road to Margaritaville in Bossier City.
Here is what Margaritaville Resort Casino Bossier City said on its Facebook page "The moment you have all been waiting for is finally here! Join us on Tuesday, May 9th for the GRAND OPENING of Drago's Seafood at Margaritaville Bossier City. Get ready for an unforgettable dining experience that will tantalize your taste buds and leave you wanting more! We can't wait to see you there!"
What Are Some Delicious Options On the Menu at Drago's?
Fleur De Lis Shrimp
Fried shrimp sautéed with peanuts and a spicy red pepper aioli
Crabmeat Au Gratin Dip
Crabmeat served au-gratin style with tortilla chips
Drago's Bayou Roll
Crawfish, pork, rice, corn, carrots and fresh kale wrapped in tortillas and fried. Served with sour cream aioli and spicy honey glaze dipping sauces.
Mac Daddy Trio
8 oz filet mignon topped with mushroom sauce, crawfish mac & cheese, and a half Maine lobster tail served with a vegetable.
Best Sandwiches in Shreveport-Bossier
Diners, Drive-Ins and Dives Guy Needs to Try in Shreveport-Bossier
Here are the restaurants that Guy Fieri needs to visit in Shreveport-Bossier for his "Diners, Drive-Ins and Dives"
Check Out These Mouthwatering Photos of Barbecue in Jefferson, Texas
The 45-minute drive from Shreveport is worth it when the barbecue is this good.
More From K945, The Hit Music Channel