Miley Cyrus Gets Raunchy with Fake Bill Clinton on Bangerz Tour [VIDEO]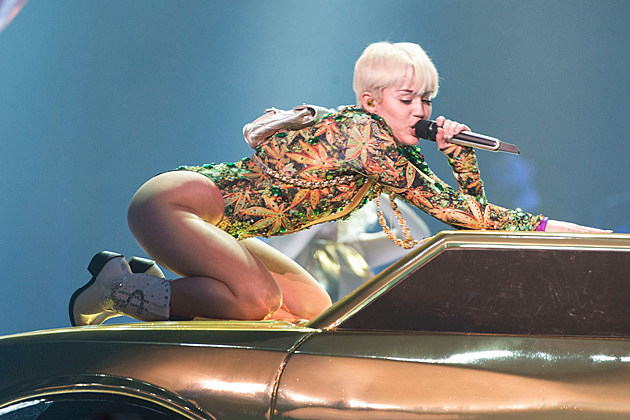 It's no surprise that Miley Cyrus' act on the Bangerz Tour is raunchy — but what she did during the kickoff show in Vancouver on Friday night (Feb. 14) may shock you.
In typical Miley fashion, the 21-year-old singer pranced around onstage in a parade of skimpy onesies, including one in a thong-style with a marijuana leaf print that she paired with matching marijuana-shaped bling. Throughout the night, Cyrus danced on cars, rocked her signature tongue pose and suggestively grabbed her crotch.
But the moment that set social media ablaze occurred during one of Cyrus' biggest hits, 'Party in the USA.' Alongside other dancing icons of our great country (including the Statue of Liberty and Mount Rushmore), Cyrus, ahem, pulled a Monica Lewinsky on a dancer wearing a Bill Clinton mask. With the promiscuous move, the provocative singer certainly brought a whole new meaning to 'Party in the USA.'
Watch Miley Cyrus's raunchy performance of 'Party in the USA'
Subscribe to K945, The Hit Music Channel on

Source:
Miley Cyrus Gets Raunchy with Fake Bill Clinton on Bangerz Tour [VIDEO]