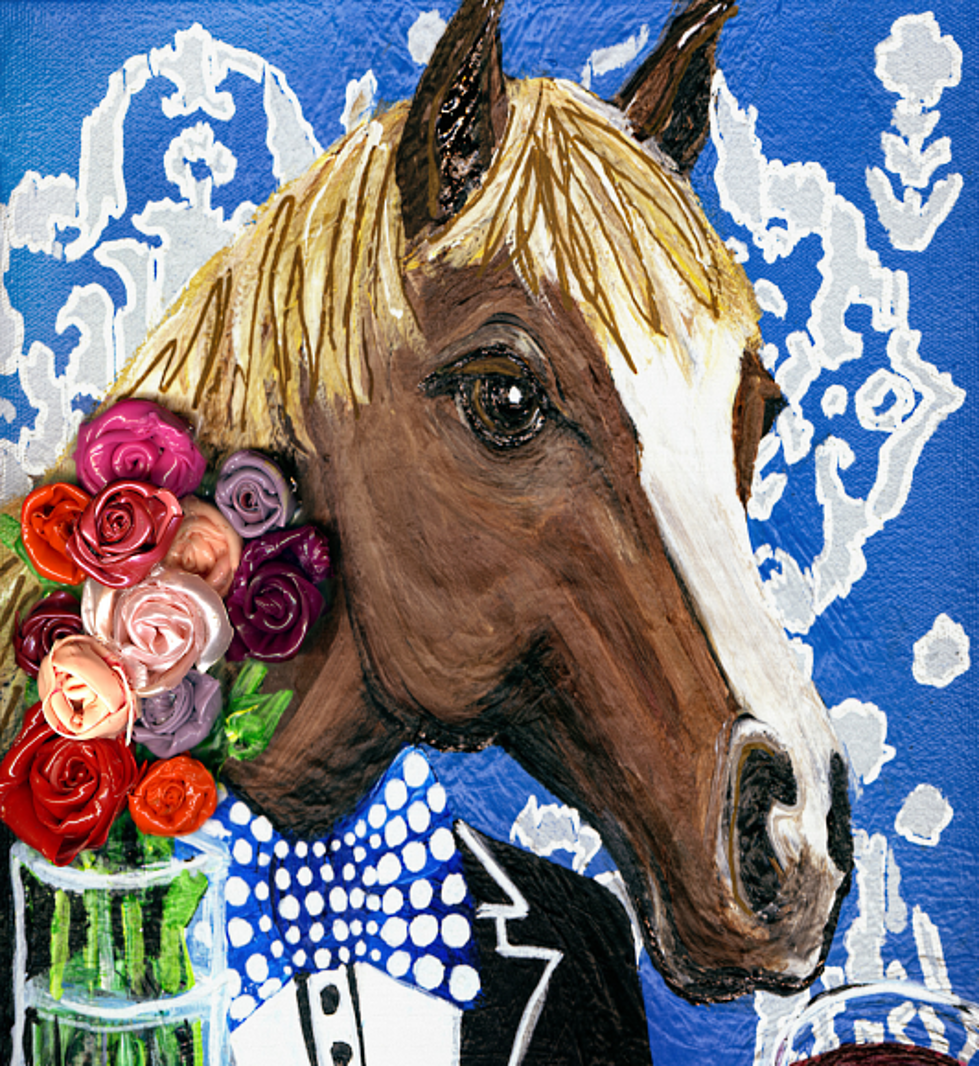 Celebrate the 318 with Wine, Dine, and Equine at The Lot!
Courtesy of GREAT, artwork by Ashley Palmer
I'm passionate about horses. After all, I am the 'crazy horse lady on the radio.' They have such pure souls and it's been said, "Horses are cheaper than therapy!" That is SO TRUE! Horses are therapeutic in many, many ways!
This is your chance to have a great night helping a great program... The Arc of Caddo-Bossier's GREAT aka Great Results Equine Assisted Therapies!
According to an article about Equine Therapy:
There are many physiological and psychological benefits documented in people during interactions with animals. These include lowered blood pressure and heart rate, increased beta-endorphin levels, decreased stress levels, reduced feelings of anger, hostility, tension and anxiety, improved social functioning, and increased feelings of empowerment, trust, patience, and self-esteem.
I still remember the first time I saw equine therapy in action. I don't think I was even 10-years-old yet, but one of my early riding instructors specialized in therapeutic riding. She allowed me to come 'help' her at the equestrian portion of the Special Olympics that were being held in Baton Rouge. You can't imagine the smiles on the exhibitors' faces. Horses truly are special. They've been proven to help troubled teens, people with anxiety, depression, and addiction, children with autism, developmental disorders, and more. You can find tons of literature about Equine Assisted Therapies online. In fact, if you do a GOOGLE search, you'll find way more than you bargained for, so I'll give you some helpful links at the bottom of this story. But mainly, I want to give you an idea of what 'GREAT' does for our community.
GREAT stands for Great Results Equine Assisted Therapies, Inc. and is a program offered through The Arc of Caddo-Bossier.  Their mission statement is to, 'Build unlimited opportunities for people with disabilities through therapeutic horsemanship.'  The Arc of Caddo-Bossier has multiple programs, but GREAT is the one that really works on my heart. It takes a lot of money to run a facility like GREAT and they would love your support... in the form of time or money!
And here's a great way for you to help GREAT! Attend their 'Celebrate the 318' Wine, Dine, and Equine fundraiser Saturday, October 23rd, 2021, from 6 - 10 pm at The Lot in downtown Shreveport. The event will feature local chefs, farms, and eats as well as both live and silent auction items and live music. Tickets are $75 and can be purchased here or by calling (318) 938-9166.
GREAT is located in Greenwood on Greenwood-Springridge Road. Give them a call at (318) 938-9166 if you're interested in volunteering with their program. They'd love to hear from you!
Helpful Links to Learn More About Equine Assisted Therapy:
Using Horses in Therapy with Troubled Teens
Using Horses in Therapy for Children with Autism/Asperger's
Using Horses in Therapy for Relationship Issues, Depression and Anxiety
Using Horses in Therapy for Addiction
Make a Donation to GREAT by clicking HERE.
Check Out Cowboys' Quarterback Dak Prescott's Dazzling Dallas Digs
The Best Restaurants for Shreveport-Style Stuffed Shrimp
Shreveport's Hidden History: The McNeil Street Pumping Station
Shreveport has all kinds of hidden history! Take the McNeil Street Pumping Station for example: It was the last known steam-powered steam powered municipal water treatment plant in the United States - and now that it's a museum, you can see this awesome part of our history up close and personal.
More From K945, The Hit Music Channel