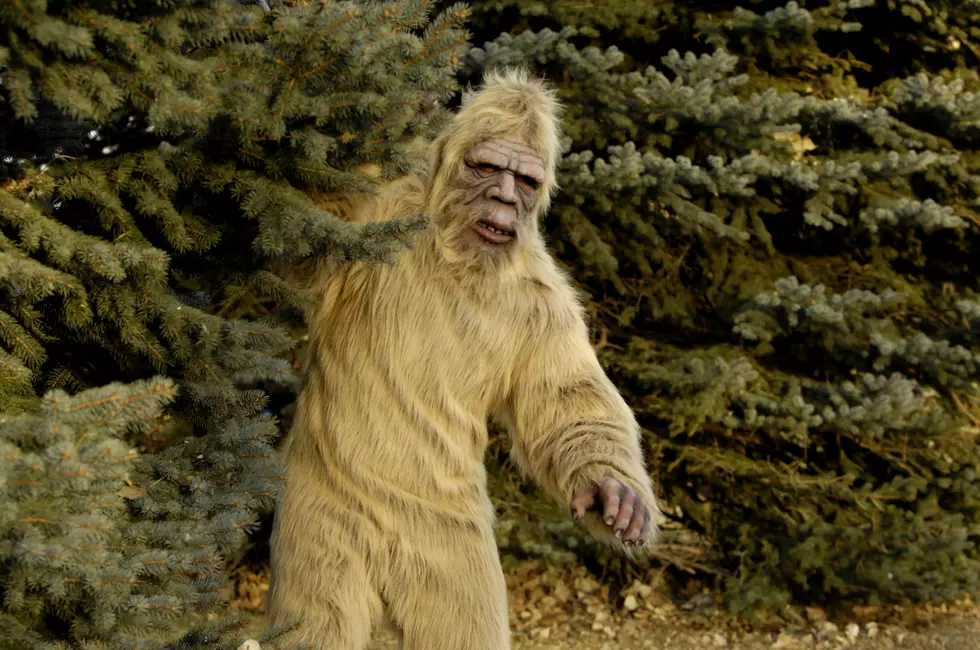 Could Bigfoot Be Hiding in North Louisiana?
Chris Rogers, Thinkstock
Bigfoot has once again become a popular topic of discussion. Recently, Hulu released a documentary that investigates three murders that, at the time, were attributed to Bigfoot. The show is called 'Sasquatch' and definitely worth watching.
Also, recently, Oklahoma put a $3 million dollar bounty on the mythical creature's head. So, with all the recent attention, I got to thinking a lot about the possibility Bigfoot exists and whether or not they could possibly be in Shreveport, Bossier or North Louisiana.
The big question...Is Bigfoot Real?
This is a tough question to answer...because, quite frankly, nobody has been able to prove or disprove Bigfoot's existence. Some experts say that 'it is unlikely' based on the fact there's not concrete evidence to prove its existence one way or the other. However, others say it's absolutely possible citing the discovery of unknown creatures and animals humans thought were long extinct. In fact, just this past, the 'giant river otter' that many thought have been extinct for a 100 years ago recently resurfaced in Argentina. So, while it may be 'unlikely', that doesn't mean Bigfoot doesn't exist because things that are considered impossibilities happen every day.
Plus, when it comes to hoaxes, most people can't keep their stories straight. However, in the case of Bigfoot, most sightings that are considered 'legitimate' seemingly are very similar. Which, unlike some other myths, would lend itself to shared experience. Whether that experience was Bigfoot, a wild hog, a bear or some other creature...who knows?
Could Bigfoot Live in North Louisiana?
The simple answer is yes, it could. In fact, our area of the country is widely considered to be Bigfoot country. From Fouke, Arkansas to Jefferson, Texas, there have been a LOT of sightings in our general region. So, if Bigfoot does indeed exist, its not that far of a stretch to assume that the creature could hypothetically live in our area. We have densely wooded areas that such a creature could hide, there have been sightings in the region...I'm mean from the folklore tale of the "Rougarou" to the "Legend of Boggy Creek", there's a lot of indicators that say 'Hey, you know what, this isn't the most insane thing I could think of'.
Northwest Louisiana & East Texas Have Their Own Kind of Bigfoot
As mentioned above, there have been plenty of Bigfoot sightings in our general area. In fact, according to an article I found in Country Roads Magazine, our area may have a different type of Bigfoot than the rest of the country. The Magazine states "Bigfoot tracks usually have five toes, but researchers claim that in Northwest Louisiana and East Texas they often have three toes, with one bulbous big toe and two smaller ones." It's a fascinating article about the hunt for Bigfoot in Louisiana.
Where Would Bigfoot Hide in Shreveport-Bossier?
The Bigfoot Research Organization, which researches Bigfoot sightings and tries to determine if a sighting was legitimate or a hoax, says that Washington State and California have the most 'legit' Bigfoot sightings in America. However, the combined area of Louisiana, Arkansas and East Texas are pretty darn close. In fact, there have been reported sightings in Caddo, Webster, Natchitoches, Rapides and Claiborne parishes. The most recent local sighting took place in 2005.
The Caddo Parish sighting took place along Black Bayou, near Oil City back in 1987. The 2005 sighting in Natchitoches Parish took place in Kisatchie National Forest. In fact, looking at all the sightings from the general area, they all have one thing in common: they took place in a wooded area near a body of water.
So, if you're going Bigfoot hunting, looking for a secluded wooded area near a body of water, whether it be a lake or swamp, seems to be a good spot.
READ ON: Weird, wild UFO sightings from throughout history
Celebs Share Their Personal Paranormal Stories
Lizzie Borden's Maplecroft Is Back on the Market in Fall River, Massachusetts
More From K945, The Hit Music Channel