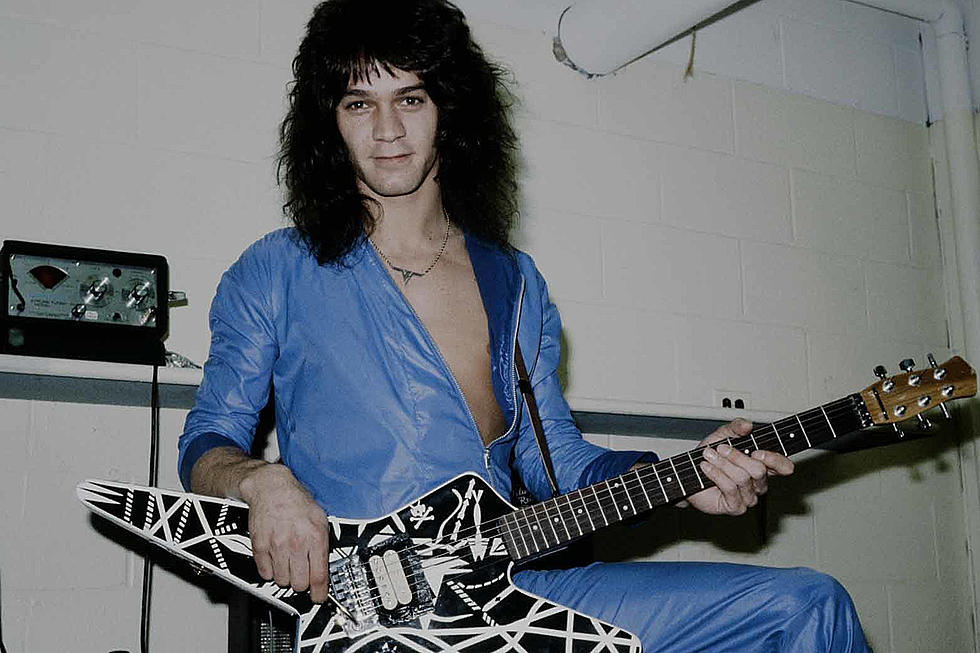 Eddie Van Halen's 'Shreveport' Guitar is Going up for Auction
David Tan, Getty Images
Enter your number to get our free mobile app
Eddie Van Halen's history with the city of Shreveport is long and impressive.  The recently deceased guitar god performed here on a regular occasion, and even met Valerie Bertinelli (who would become his wife and the mother of his son Wolfgang) backstage at the Hirsh Coliseum.
Now, you can own a piece of EVH's Shreveport past thanks to Julien's music-oriented auction.  The event is called Icons & Idols: Rock and Roll, and one of the items is a guitar that was assembled, customized, and decorated by Eddie himself.  This red, black, and white striped masterpiece is modeled after the original, and most famous of his custom guitars Frankenstrat.  The guitar was used by Mr. Van Halen in a show at the Centenary Oyster House in Shreveport in 1991, and it is inscribed with the following message: "Yo – / Bryan / Let's get / shucked / up / Eddie Van Halen / 5150."  After the show, he gave the guitar to Bryan Crash.
Now that guitar, built and played by an honest to goodness guitar master is going to the auction block.  Experts expect it to go for $20,000 to $40,000!  If you've got the extra cash, you could have a real piece of Shreveport's rock and roll history hanging on your wall!
According to KBTX, the auction is slated for December 4th through the 6th. The report claims that the sale also features:  "...a Fender Stratocaster played, and smashed, by Kurt Cobain on Nirvana's 1994 In Utero Tour, and a crystal-studded white glove worn by Michael Jackson on the Jackson brothers' 1984 Victory Tour."
Famous Musicians from Shreveport
More From K945, The Hit Music Channel