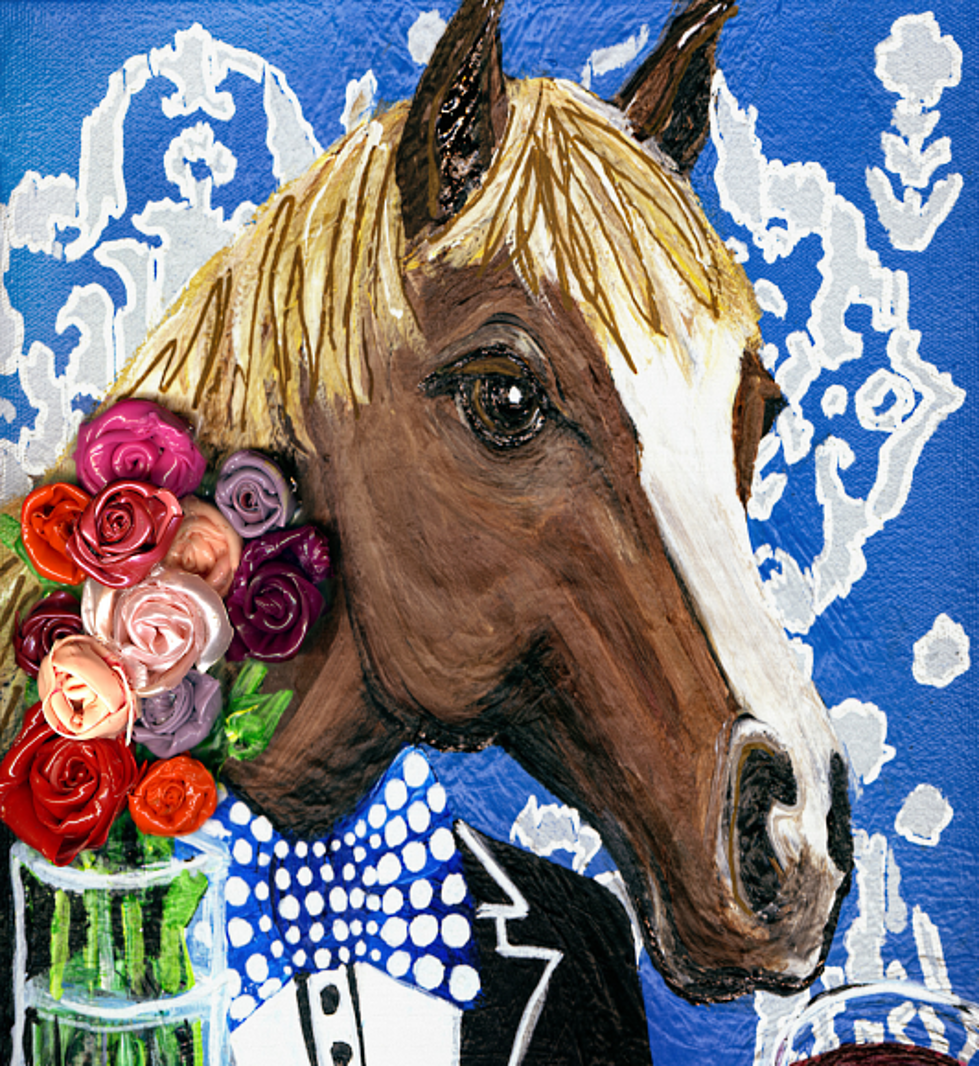 Preview this Year's Exciting Wine, Dine, and Equine Event Thursday
Courtesy of GREAT, artwork by Ashley Palmer
I'm passionate about horses. After all, I am the 'crazy horse lady on the radio.' They have such pure souls and it's been said, "Horses are cheaper than therapy!" That is SO TRUE! Horses are therapeutic in many, many ways!
This is your chance to have a great night helping a great program... The Arc of Caddo-Bossier's GREAT aka Great Results Equine Assisted Therapies!
According to an article about Equine Therapy:
There are many physiological and psychological benefits documented in people during interactions with animals. These include lowered blood pressure and heart rate, increased beta-endorphin levels, decreased stress levels, reduced feelings of anger, hostility, tension and anxiety, improved social functioning, and increased feelings of empowerment, trust, patience, and self-esteem.
I still remember the first time I saw equine therapy in action. I don't think I was even 10-years-old yet, but one of my early riding instructors specialized in therapeutic riding. She allowed me to come 'help' her at the equestrian portion of the Special Olympics that were being held in Baton Rouge. You can't imagine the smiles on the exhibitors' faces. Horses truly are special. They've been proven to help troubled teens, people with anxiety, depression, and addiction, children with autism, developmental disorders, and more. You can find tons of literature about Equine Assisted Therapies online. In fact, if you do a GOOGLE search, you'll find way more than you bargained for, so I'll give you some helpful links at the bottom of this story. But mainly, I want to give you an idea of what 'GREAT' does for our community.
GREAT stands for Great Results Equine Assisted Therapies, Inc. and is a program offered through The Arc of Caddo-Bossier.  Their mission statement is to, 'Build unlimited opportunities for people with disabilities through therapeutic horsemanship.'  The Arc of Caddo-Bossier has multiple programs, but GREAT is the one that really works on my heart. It takes a lot of money to run a facility like GREAT and they would love your support... in the form of time or money!
And here's a great way for you to help GREAT! Attend the preview party for this year's Wine, Dine, and Equine "Celebrate the 318' event this Thursday, October 7th, 2021, at Ki' Mexico between 6 - 8 pm. Ki' Mexico will be serving Wagyu beef, along with their regular menu.  Seth Bradford will be playing and there will be a drawing for a ticket to Wine Dine, and Equine 'Celebrate the 318!' Stay tuned, more on the main event soon. Just make sure to hold Saturday, October 23, 2021, open and plan on heading to The Lot in downtown Shreveport. Lots more to come on that and we'll see you for some of the best Mexican food in town Thursday!
GREAT is located in Greenwood on Greenwood-Springridge Road. Give them a call at (318) 938-9166 if you're interested in volunteering with their program. They'd love to hear from you!
Helpful Links to Learn More About Equine Assisted Therapy:
Using Horses in Therapy with Troubled Teens
Using Horses in Therapy for Children with Autism/Asperger's
Using Horses in Therapy for Relationship Issues, Depression and Anxiety
Using Horses in Therapy for Addiction
Make a Donation to GREAT online by clicking HERE.
Here are the Top 10 Reasons to Have Lunch at the Revel
10 Animals You Can't Own in Shreveport
After doing a deep dive into state and city laws, I have found ten animals you absolutely cannot own in Shreveport, Louisiana.
See Shreveport-Bossier's Top 10 Restaurants for Diet Cheat Days
More From K945, The Hit Music Channel