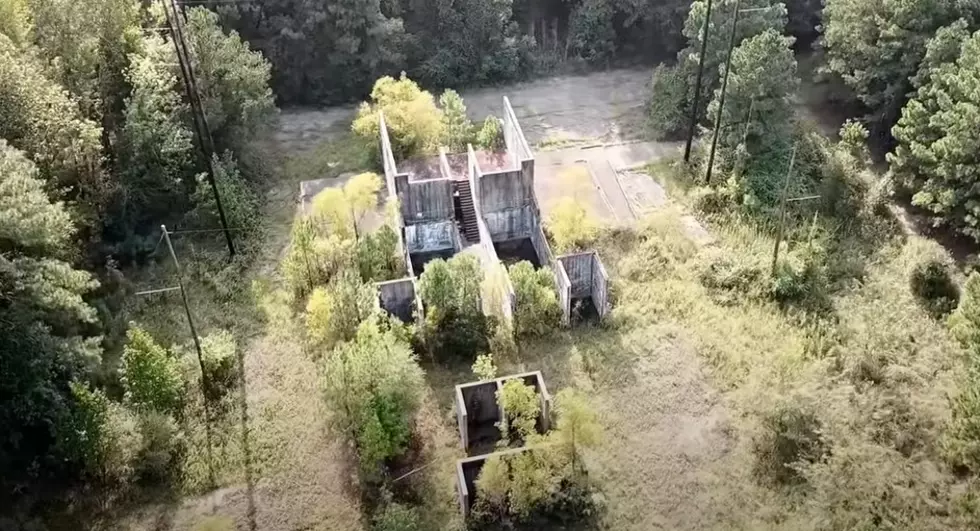 Mysterious Abandoned Military Installation Hidden In East Texas
Beyond Civilization (Xplore RC) via Youtube.com
Imagine you're hiking through a national park or wildlife refuge and you stumble upon a massive abandoned military structure. Giant buildings, stretching across thousands of acres. All with tall concrete walls and vegetation growing up through the structures.
That is exactly what could happen in the Caddo Lake National Wildlife Refuge in East Texas. Where you could come across the decaying skeleton of what is now known as the Longhorn Army Ammunition Plant.
It rests in the woods of Harrison County Texas on 8,493 acres. The operation was started in 1942 after the location was selected by the Monsanto Chemical Company in 1941. The goal of the plant was to produce the explosive, TNT. Which it appears to have been pretty good at, producing over 400 million pounds of TNT during World War II.
After its use in World War II creating explosives, the plant was then used in the 1980s to destroy explosives. When the company Thiokol controlled the structure it was used to destroy Pershing 1A and Pershing II missiles that were decommissioned after the signing of the Intermediate-Range Nuclear Forces Treaty.
Eventually the property lost its use for military purposes, and was transferred to the US Fish & Wildlife Service in the year 2000. That's when it became the Caddo Lake National Wildlife Refuge.
Yes, millions of pounds of World War II explosives were created in the same place nuclear capable missiles were destroyed...and it all happened on the Texas-Louisiana border, about 25 miles from the city limits of Shreveport.
Check out some incredible pics, and a link to a fascinating video of the site, right here:
Longhorn Army Ammunition Plant
This abandoned Army munitions plant is now home to the Caddo Lake National Wildlife Refuge. Check out these photos from a drone tour by YouTube channel Xplore RC.
8 Rumored Buried Treasure Sites in Texas
Have you ever dreamed of digging up a treasure chest filled to the brim with gold, jewels, and other valuables? Of course you have! Now, you've got the chance to make that dream come true in Texas!
According to KSAT
, these are the 8 most legendary treasure troves just waiting to be found in the Lone Star State
19 Scary Movies With Louisiana As The Setting
More From K945, The Hit Music Channel