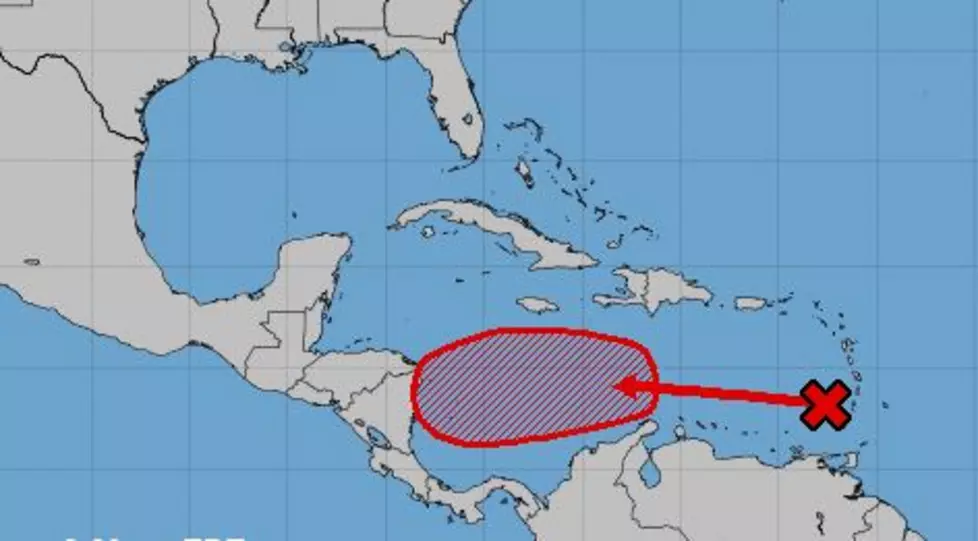 Tropical Development in Caribbean Now Likely Over Next 5 Days
nhc.noaa.gov
Hurricane Season 2020 still has the entire month of November left and it doesn't appear as if Mother Nature is quite ready to let a storm-weary world off the hook anytime soon. Forecasters with the National Hurricane Center are monitoring a tropical wave in the eastern Caribbean Sea which is forecast to move westward over the weekend. During the next few days, that system should be in an environment conducive to tropical development.
That's not good news.
As of early this morning, Hurricane Center forecasters were giving this system an 80% probability of becoming a tropical cyclone by early next week. The system's general motion is westward and if that motion continues this could bring the developing system in contact with the coasts of Nicaragua or Honduras on Monday or Tuesday.
The European Forecast Model does suggest that this particular system will not only move onshore in Central America but it will actually pass over the narrow band of land and into the Pacific Ocean. Hopefully, if this does occur, the system won't develop into much more than a tropical depression because we certainly don't wish the wrath of a landfalling tropical system on anyone.
Again we caution you that this is one model solution and not an official forecast. We don't ever recommend you make plans regarding life or safety on model guidance, always wait for an official forecast from a sanctioned and proven forecast outlet.
Elsewhere across the tropical Atlantic Basin things appear to be rather quiet. Almost too quiet for such an explosive season but maybe things are finally going to wind down from this record-breaking year.
If you weren't aware, Hurricane 2020 has spawned 11 named storms that have made landfall in the continental United States. Five of those named storms have made landfall in Louisiana. So, quite frankly, we are viewing this potential new system the way Sweet Brown views bronchitis. "Ain't nobody got time for that".
However, we will continue to monitor this system and the tropics until the "all clear" has been given for the season.
Things Not Welcomed Into State of Louisiana
More From K945, The Hit Music Channel