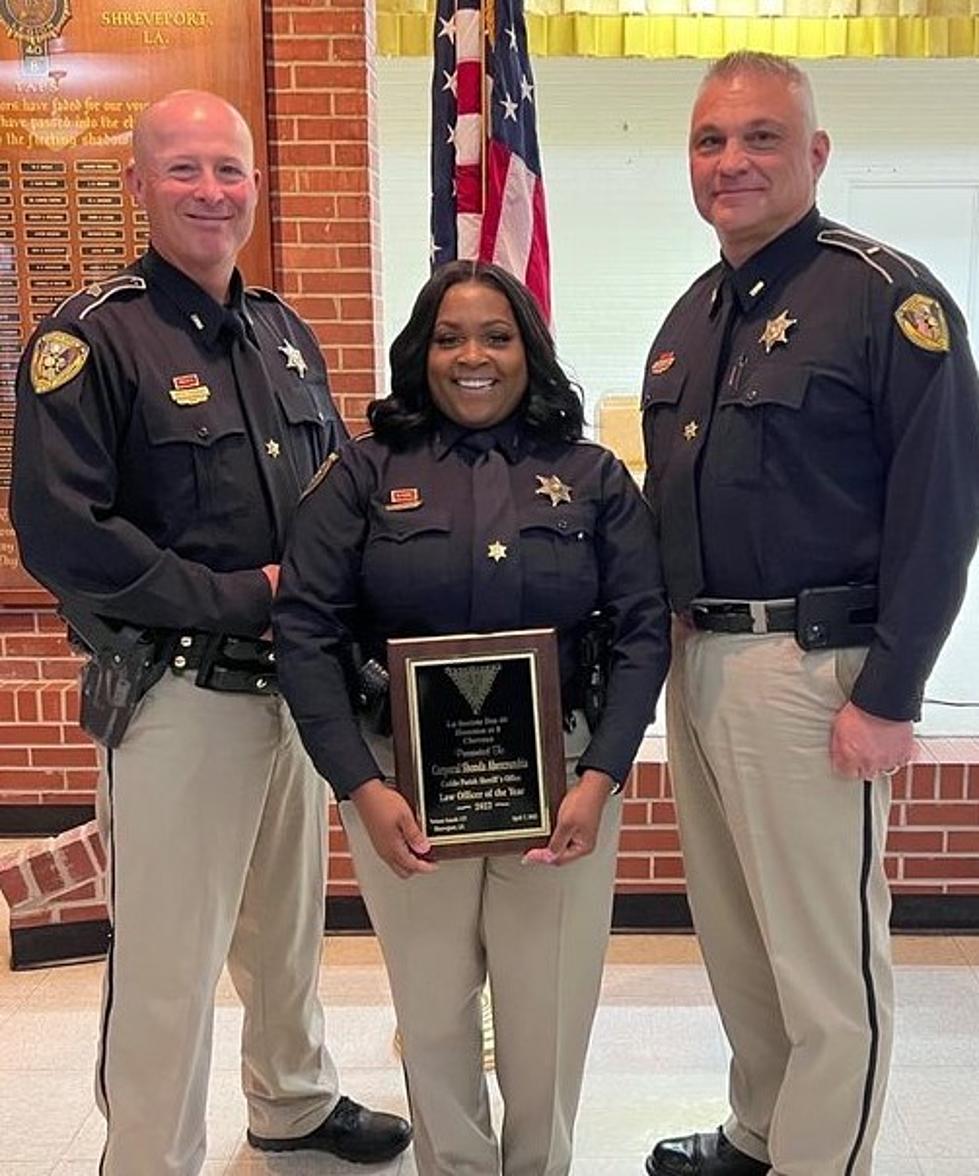 Caddo Sheriff's Deputy Named "Law Officer of the Year"
CPSO
A local Deputy has been granted the honor of having been named "Law Officer of the Year".
Cpl. Shonda Abercrumbia was selected by the La Societe des 40 Hommes Et 8 Chevaux's (The Society of 40 Men and 8 Horses) as the Law Officer of the Year and was honored in a ceremony at the 40 and 8 Club Chateau on Thursday, April 7.
Cpl. Abercrumbia will represent the Shreveport-Bossier area in the state competition.
Cpl. Abercrumbia has been a deputy for over 25 years. She has worked in detention and the bailiff section, and is currently assigned to the Civil Division as a process server and member of the CPSO hostage negotiation team.
"Shonda is a hard worker who is dedicated to her job and it is a joy to supervise her," said Sgt. Jeff Thomas.
As a process server, Cpl. Abercrumbia has executed court orders that involved taking children out of a dangerous environment and removing defendants from their homes. She completed all orders without incident and conducted herself in a professional manner at all times.
During the winter freeze of February 2021, Cpl. Abercrumbia assisted the operations division by distributing water to the hard-hit areas of Caddo Parish and helping citizens affected by the weather.
She was also the main negotiator in two of three hostage incidents she was called to in 2021. Each time, she was able to negotiate with subjects and diffuse the situation resulting in a positive outcome.
When off duty, Cpl. Abercrumbia remains involved in the community. She is an active member of the Order of The Eastern Star. She also volunteers with the Salvation Army to feed the homeless.
"Her work is exemplary and brings honor to the Caddo Parish Sheriff's Office and to the citizens that we serve," said Sgt. Thomas.
Largest Shreveport City Salaries After 2022 Pay Raises
Earlier this year, Shreveport employees received a 13% pay increase across the board. This salary information was provided by the City of Shreveport after a Public Records Request, and reflect salaries after those raises started. We will list the City Department, and Position, exactly as they are described by the City of Shreveport in the Public Records Request.
Louisiana's Most Devastating Hurricanes
Caddo Correctional Bookings for 4/1/22-4/4/22
The following mugshots are those who were booked in to Caddo Correctional Center through the dates of 4/1/22-4/4/22. Some of these inmates may have already been released. Many inmates have not yet been to trial and are considered innocent until proven guilty.
More From K945, The Hit Music Channel