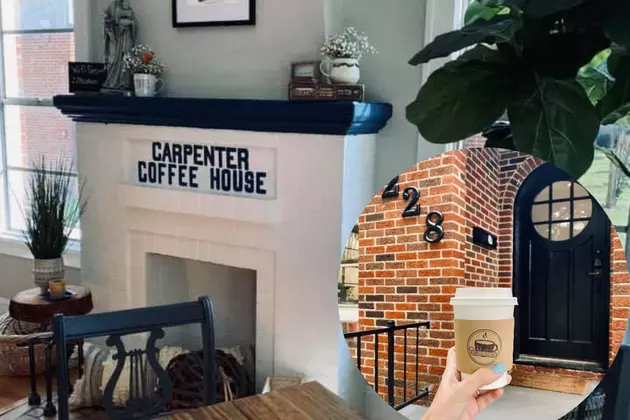 Have You Heard of This Little Coffee House in Broadmoor?
Carpenter Coffee House via Facebook
Did You Know There Was a Cute Little Coffee Shop in the Broadmoor Neighborhood in Shreveport?
Did you know there is a cute house in the Broadmoor area that's been turned into a coffee shop? I was on the 318 Eats! Facebook page where I saw someone post a cute coffee shop. The woman recently discovered this quaint little coffee shop and mentioned that there are so many quiet spaces in the house to enjoy.
I Looked Up This Coffee Shop and It Seems Like The Place Has Been Open Since 2021.
Carpenter Coffee House is part of the ministry at St. Joseph Catholic Church. If you go to their website you can see their mission statement it says, "Carpenter Coffee House has a simple mission: to build. By sourcing coffee through Bridging Tables we can help build missionary efforts globally, and by opening our doors for groups and families we can build community in our own parish. When you enjoy a cup of coffee at Carpenter Coffee House we ask you to consider the question, what could your brew build? What is God asking you to build with your time, talent, and treasures? We look forward to continuing our mission at St. Joseph Catholic Church through this ministry as Carpenter Coffee House."
The Coffee House Seems to Be a Neighborhood Favorite.
Have you been there before? What coffee do you recommend?
5 Shreveport-Bossier City Restaurants That Should Be Featured On Diners, Drive-Ins and Dives
We were poking around online and discovered that out of all the Louisiana restaurants featured on
Guy Fieri's Diners, Drive-Ins and Dives on Food Network
, he's never featured an eatery from our area. These are the five restaurants in Shreveport-Bossier City, LA that we think he should visit... first!
Best Wedding Venues in Shreveport-Bossier
Check Out This Cute Tiny Cabin in Broken Bow
More From K945, The Hit Music Channel