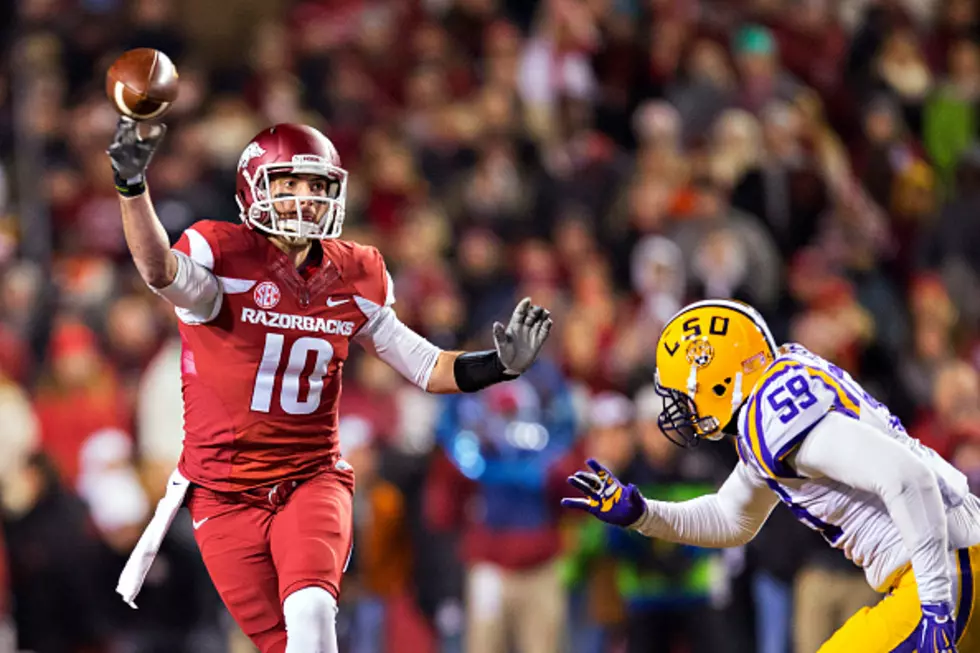 LSU Opens as Historic Favorite Over Arkansas
Wesley Hitt/Getty Images
I grew up in Starkville Mississippi. I know a lot about bad football teams. The University of Arkansas Razorbacks this year are a bad football team. They have great athletes and the program at Arkansas will be better. It just won't happen for Hog fans this year.
The LSU Tigers have a very good football team. The team from LSU will face the team from Arkansas this Saturday in Baton Rouge. The winner will get the absolute ugliest trophy in sports. It's called "The Golden Boot".
The boot is a  "made-for-tv" concoction that blends the shape of the state of Arkansas with the state of Louisiana and if you're drunk enough you could see the resemblance between this "trophy" and a boot at the bottom of your closet.
Las Vegas oddsmakers have installed the LSU Tigers as a 44 point favorite to keep that ugly trophy in Baton Rouge. If you're thinking you haven't seen a point spread between two SEC schools that high in recent memory you'd bee correct.
The 44 points Vegas is giving Arkansas is the highest point spread between two SEC schools since 1980. Some betting sites had the Tigers favored by as much as 46 in Saturday's game.
When you consider that Arkansas has given up 45 points in its last four games and even let "national powerhouse" Western Kentucky lay 45 points on them in a 45-19 whuppin' on November 9th. you can see why Vegas is going with the big number.
If you're wondering what other SEC matchups produced those other large point spreads? Well, that honor belongs to Vanderbilt versus Florida in 1995 when the Gators were favored by 43 points in 1995 and 1996.
Since 1980 there have been ten football games between SEC schools where the point spread has been greater than 35. Most of those large point spreads involve Vanderbilt. But don't feel bad for the Commodores.
Those 35 points that Las Vegas is giving to Vanderbilt are equal to the same 35 that most of the students got on their ACT score to get into the university. I think those students will be just fine with life after football.
More From K945, The Hit Music Channel