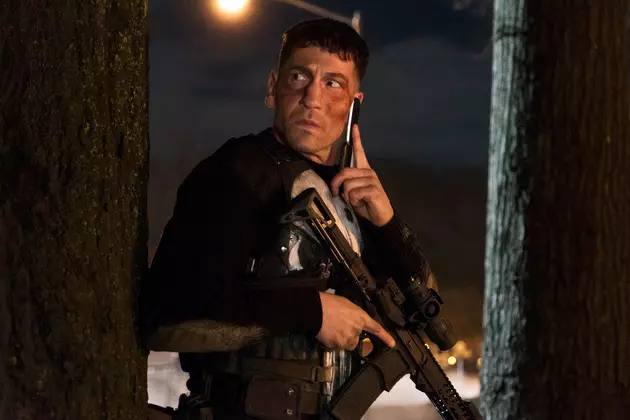 'Punisher' Star Jon Bernthal Talks Gun Control and Alt-Right Fans
Marvel / Netflix
An extensive new Esquire profile saw the Punisher and former Walking Dead star looking back at his own troubled past, as well as the current gun debate that his ultra-violent character unwittingly symbolizes. Bernthal reportedly struggled with how to address Frank Castle's gun obsession for the interview, but acknowledged his own role as a gun-owner, as well as "the cowardice of those who hold absolute positions on either side of the issue." As Bernthal puts it, the proper dialogue simply isn't there:
I'm a gun owner. I have a gun in my house to keep my family safe. I'm trained in that gun's use. I know how to keep it away from my kids, and I know how to use it if I need to … Should there be a way that a guy with mental issues like the a–hole in Texas can't get guns? Absolutely. We have to have a dialogue, and that's not happening.
Bernthal is well aware of real-world soldiers and law enforcement who appropriate the Punisher symbol, and offered that "I feel honored to play a guy who people putting their life on the line identify with." As to members of the alt-right who similarly identify with the character – some of whom were reportedly wearing the logo in the Charlottesville, Virginia riots – Bernthal exclaimed "F— them."
Interestingly, the piece also notes that Bernthal's intensity made The Punisher an occasionally-challenging shoot, and the actor reportedly stopped receiving rough cuts of episodes after expressing his displeasure with the series' pilot. The star also reveals that while he respects actors who "feel awe walking into the Marvel Universe," he has loftier aspirations:
I got respect for those people. But I don't feel that way. I just don't. It's nothing against what they're doing. That's not what I watch … You talk about Leo, you talk about Brad, the guys I really, really respect—and they have all kind of stayed clear of the superhero stuff.
Nonetheless, Bernthal will return for The Punisher Season 2 at an undisclosed point in the next few years, while all episodes of Season 1 are available to stream on Netflix.
Gallery: Every Live-Action Marvel TV Series, Ranked
More From K945, The Hit Music Channel