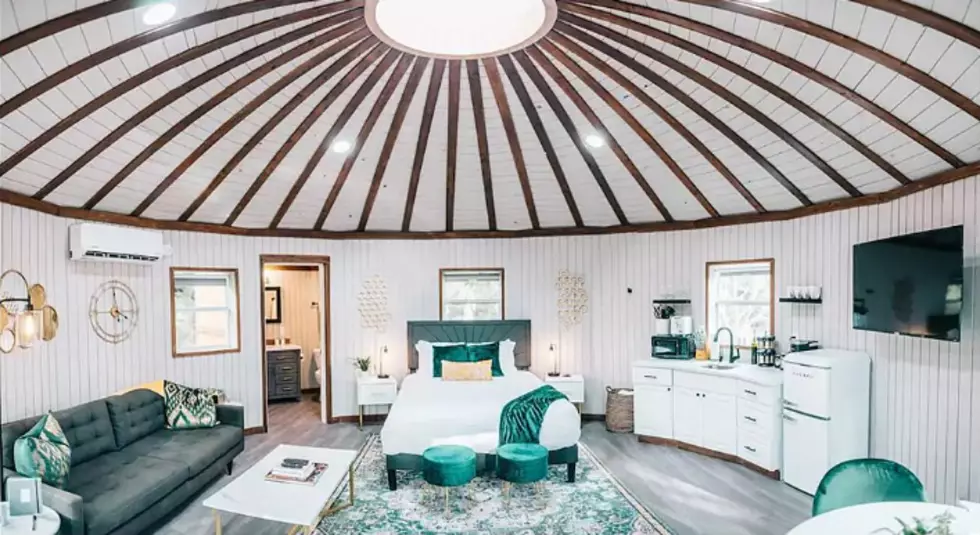 This Viral Texas Yurt Can Be Rented Just A Few Hours From Shreveport
Photo courtesy of Airbnb Superhost Derek
OK, even if you've already seen the pictures online, you might not know exactly what a Yurt is. So we went ahead and got a definition from National Geographic, here's what they say:
"A yurt is a portable, circular dwelling made of a lattice of flexible poles and covered in felt or other fabric. They are a sturdy, reliable type of tent. Yurts have been the primary style of home in Central Asia, particularly Mongolia, for thousands of years."
But that's the basic idea of a Yurt. In today's standards, a Yurt is no longer a portable home...it can be a forever home. There are actually plenty of companies out there (like Yurts.com) who can build you a permanent Yurt. These permanent Yurts are actually the same as a portable one, just built on a permanent foundation. Either way, people are living in permanent Yurts year-round now.
However you don't have to buy or build your own Yurt to get the experience. The vacation Yurt industry is huge right now. Some view it as the next level of "glamping"...even though I hate that word.
See, "glamping" is the idea of glamorous camping. Where resorts are created to allow people who don't like camping to have an upscale "camping" experience. Where they might sleep with a door open in a million dollar resort lodge. I don't care that people are enjoying themselves, I just don't think we should pretend its camping in anyway.
But with these Yurts, its not really like you're pretending to camp...this is essentially a house. Just built in a circle, and created in a pretty crafty way.
Whenever a cool looking Yurt catches on AirBNB (or various other rental sites) they usually go viral. There are a lot of people interested in the concept, even if they just want to say the word "Yurt". When I saw some pictures on social media recently, I realized the Yurt people were sharing was actually in Texas. After I saw a co-worked post about it, I was able to see exactly where it was.
This Yurt has been making the rounds online, and its located in Dripping Springs, Texas. That's on the west side of Austin, and will take between 5 and 6 hours to get there from the Shreveport city limits. Making it the perfect distance to get away, while still being close.
Check out more pictures of this epic Yurt...
Top Rated Treehouse Yurt in Dripping Springs, Texas
This top-rated Airbnb in the Texas Hill Country is beautiful and is the perfect setting for your relaxing getaway.
More From K945, The Hit Music Channel