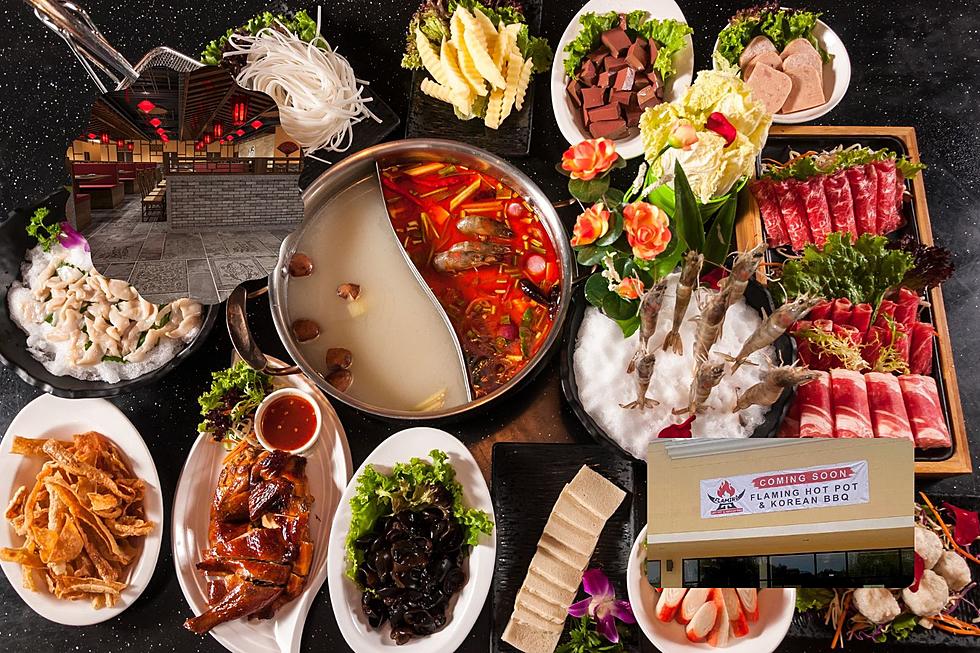 Shreveport is Getting a Korean Hot Pot and BBQ Restaurant
Canva/Flaming Hot Pot & Korean BBQ via Facebook
If you're a fan of Korean cuisine or just want the chance to expand your palette, Shreveport, LA, is getting its own Korean hot pot and BBQ restaurant!
What's Korean food like and what's a hot pot?
Wikipedia says that a Korean-style hot pot meal is made by putting meat, mushroom, seafood, seasoning, etc., in a stew pot, adding broth, and boiling it. It's called 'Jeongol.' Since I couldn't recall if I had ever experienced Korean cuisine, I looked up a description of that as well and Wikipedia says it's 'largely based on rice, vegetables, seafood and (at least in South Korea) meats. Dairy is largely absent from the traditional Korean diet. Traditional Korean meals are named for the number of side dishes (반찬; 飯饌; banchan) that accompany steam-cooked short-grain rice.'
How is Korean BBQ different than American BBQ?
I think we've all had a BBQ sandwich in our life or have experienced the goodness that is Silver Star, Bodacious BBQ, Podnah's, and the like, but I wanted to know how Korean BBQ was different from what we're used to. Masterclass.com says that 'Korean barbecue commonly utilizes small, tender cuts like beef tongue, beef short ribs, pork belly, and chicken.' Conversely, they say that 'In the US, barbecue might use big cuts of meat like brisket, whole chickens, pork butts, pork ribs, and big steaks like sirloin and rib-eye.' I don't about you, but I'm game to give it a try.
When will we be able to try this new Korean Hot Pot and BBQ Restaurant in Shreveport, LA?
Not soon enough if you ask me! According to the Flaming Hot Pot & Korean BBQ Facebook page, they expect to open their doors next spring in 2024. The restaurant is located at 5670 Youree Drive in Shreveport in the Bayou Plaza Shopping Center.
---
---
Sounds good, right? And judging by this post, they're really putting their heart and soul into this new endeavor!
---
---
It looks like things are really coming along according to their latest post and did we mention that the new Flaming Hot Pot and Korean BBQ is all you can eat?
---
---
Check Out Shreveport's Top 5 Best Rated Restaurants!
5 of Louisiana's Oldest Restaurants Make Their Home in Shreveport
The Best Restaurants for Shreveport-Style Stuffed Shrimp
More From K945, The Hit Music Channel