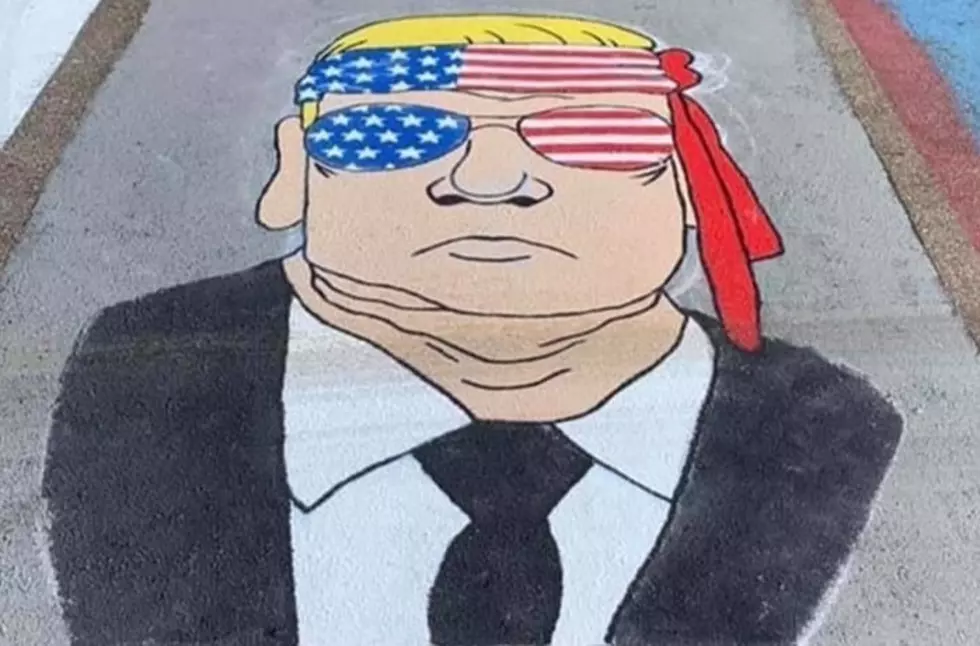 Louisiana Student to Sue School Board after Trump Painting Deemed Too Controversial
GoFundMe (David Phelps)
Enter your number to get our free mobile app
Is this picture too controversial? According to the Washington Parish School Board here in Louisiana, the answer is yes. According to Pine High School Senior, Ned Thomas, the portrait of President Trump was painted on a parking spot at the school as part of the school's "Seniors Paint Your Parking Spot" program.
Even after Ned had gotten approval from the school's principal, and had a paid artist complete the work, Ned awoke to find he'd missed phone calls from the principal with the bad news that the Washington Parish School Board had the image painted over, deeming it too controversial.
In a story originally reported by the Louisiana Radio Network, we learn, "I woke up and I had missed calls from our principal and told me, 'I'm sorry, but it had to be painted over.' The school board office had forced the school to do it. I was just quite shocked and I didn't know what to think exactly and I went out there and it was gone," said Thomas.
Thomas is still confused, and apparently so are a number of his supporters, that a painting of a United States President could be deemed too controversial.
Thomas was told, "If they allowed this political character to slip, then they would have to allow other political things to slip" but the student adds, "there was already plenty of political parking spots. They painted over my spot that I'm aware of and they painted over another corner of a kid's and it said 'Trump 2020' on the corner."
As far as the contest goes, Thomas feels he didn't violate any of the stated rules: no negative, rude, or offensive language, pictures, or symbols.
Because of the School Board's decision, Thomas is now hoping to have his day in court as he seeks an injunction ordering the repainting of the picture and $200 for damages for the destruction of the first version and attorney's fees. "I just want to be able to paint on my spot which is a picture of the President. It's not anything obscene or absurd or anything to that extent, it's just a picture of the President of the United States," said Thomas.
If you feel you'd like to help out with his legal expenses in this battle, a GoFundMe page has been set up.
LOOK: Here are 50 political terms you should know before the upcoming election
More From K945, The Hit Music Channel