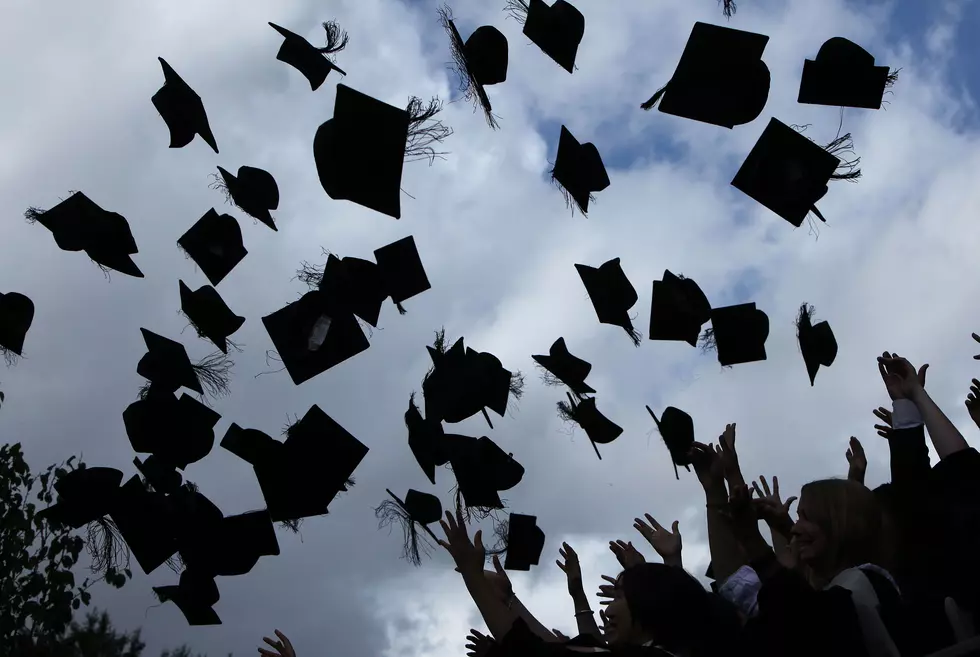 You Can Adopt a Local High School Senior!
Christopher Furlong/Getty Images
In one of the coolest ideas I've ever seen online, you can now adopt a local high school senior in an effort to show them support and positivity during the coronavirus pandemic.
Right now, local seniors don't know if they'll be able to walk the graduation stage or not. Sure, dates have been set now for tentative graduation ceremonies, but because of the uncertainty of the times we're living in, we don't know if we'll be still 'sheltering in place' when those dates roll around.
Of course, we're all for doing what's best for our community at large, but most of us agree, it would be a shame for these high school seniors to miss out on an important milestone in their lives.
They describe their mission as follows:
We've got you covered SENIORS... During this hard time our Seniors are missing out on end of school year memories. Let's show some positivity and remind them of how important they are to us. Parent/Guardian post a picture of your Senior, their High School, and their future plans. List 5 things about them such as their favorite food, favorite color, favorite restaurant, favorite sports team, & etc. That special someone will post the word ADOPT in the comment section to help them through this time. Once they have been adopted by at least 1 person (do not re-post again) just edit your post to say 'ADOPTED' with who adopted your Senior so we will know they have been adopted.

When adopting a Senior you can send them gift cards as simple as 5$, make them gift baskets, or even send them a card with some encouraging words. Keep in contact with them until June 30th and let them know how important they are and that they are loved by many.

When you first make your post please post the word "WAITING" for the first word of your post so others will know that your Senior still needs to be adopted. When your Senior has been adopted by at least 1 person please edit your post and change the word from WAITING to "ADOPTED" so we will know who still needs to be adopted, again do not re-post but edit only. Also by editing the post, you can tag those individuals that have adopted your Senior.
**DISCLAIMER** Use of this group is at your own discretion. Please be cautious when giving out and receiving any personal information.

Adopt at Your Own Discretion:

Search inside the group (search option at top) for Senior names and check previous posts for each name before agreeing you will 'adopt'. The admins will not be held responsible if you feel you have adopted a Senior that has already been adopted several times. We suggest clicking on the 'not adopted' tab and choose a Senior that has not been adopted before choosing someone who has already been adopted. If all Seniors have been adopted, we suggest finding someone who only has been adopted once. Again, this is only a suggestion so that all the Caddo and Bossier Parish high school graduating students in this group are treated fairly.

Be Kind and Courteous: We are supporting the Caddo and Bossier Parish "High School Graduating Seniors". Let us treat everyone with respect. Kindness is required.

Be Positive: Degrading comments about race, religion, culture, sexual orientation, political affiliation, or gender identity will not be tolerated. If you have a concern about a post, report the post to an admin.

No Spam: We would like to eliminate duplicated or spam related posts.

See "announcements" for all group information. Please read all announcements and understand it is time consuming for admins to answer every inbox message.
Let's continue to support our seniors and make them feel loved as God give the increase. Gifts and Scholarship blessings will be given out in July. We will keep you updated on the exact date.
What a great idea! I've already adopted a senior from Haughton High School named Hunter and I hope that you will consider doing the same!
Things to Do While You're Staying at Home
More From K945, The Hit Music Channel